This article will be about the silver focused junior Dolly Varden Silver. Since the company is a passive banner sponsor, and I own shares, you should consider me biased.
Setting The Scene
We know silver typically outperforms gold in a bull market and silver juniors tend to have the larger bottom-to-top rallies than gold miners. It is a more volatile than its larger brother and the swings in the companies can be extreme. Interestingly silver is I think the only metal that has not yet surpassed its inflation adjusted peak in 1980. All in all silver has been a remarkably hard for mining companies to make any sort of continuous profits in. No doubt that is a big part of the reason why so many "silver juniors" end up becoming more gold focused the longer a bear market persists. This kind of brutality is probably why there are very few serially successful entrepreneurs that have been able and willing to do it in silver. Personally I love silver but to my frustration I don't think there are too many good silver stories with credible management teams etc.
One reason for silver's underperformance relative to pretty much all other metals is probably due to the fact that the majority of silver production comes as a bi-product from lead, zinc and gold mines. As such it is quite inelastic in terms of supply since the large mines around the world will keep producing silver even if the supply outpaces demand which leads to a chronic "wet blanket" on the silver price.
However, there are very interesting things happening in the silver space as of late. Firstly, the COMEX registered category has been dwindling steadily ever since the #Silversqueeze started trending:
Secondly, last year we suddenly saw a silver DEFICIT that amounted to more than all years of surpluses combined over the last ten year:
And thirdly, I recently saw this tweet from "Bai Xiaojun" which alleges that companies in China are having problems securing silver needed for industrial purposes such as solar:
… On that note this is what IAE projects in terms of solar/photovoltaic demand (Yellow line):
(Chart from a Chen Lin presentation)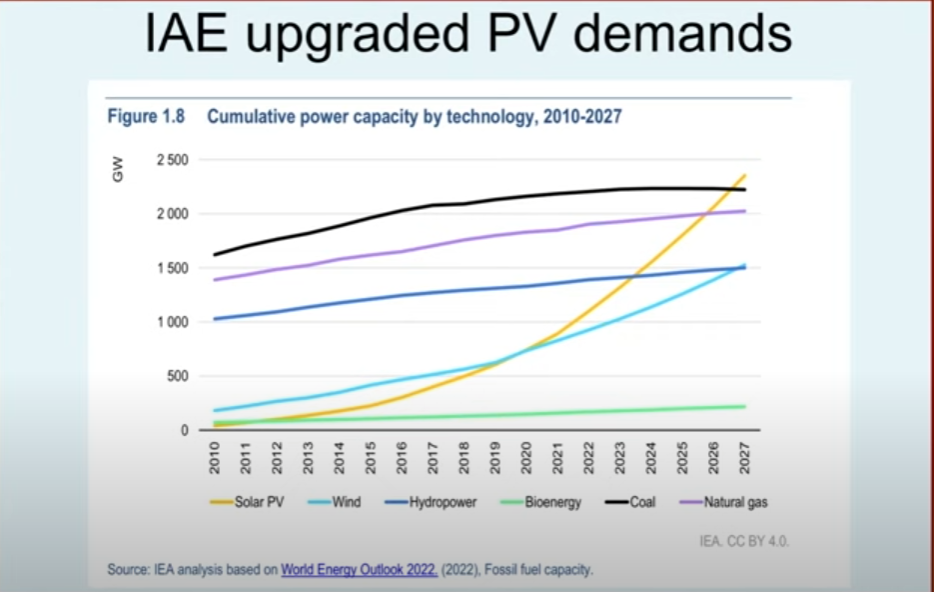 Lastly, the SFE exchange has been bleeding silver inventory as well it appears: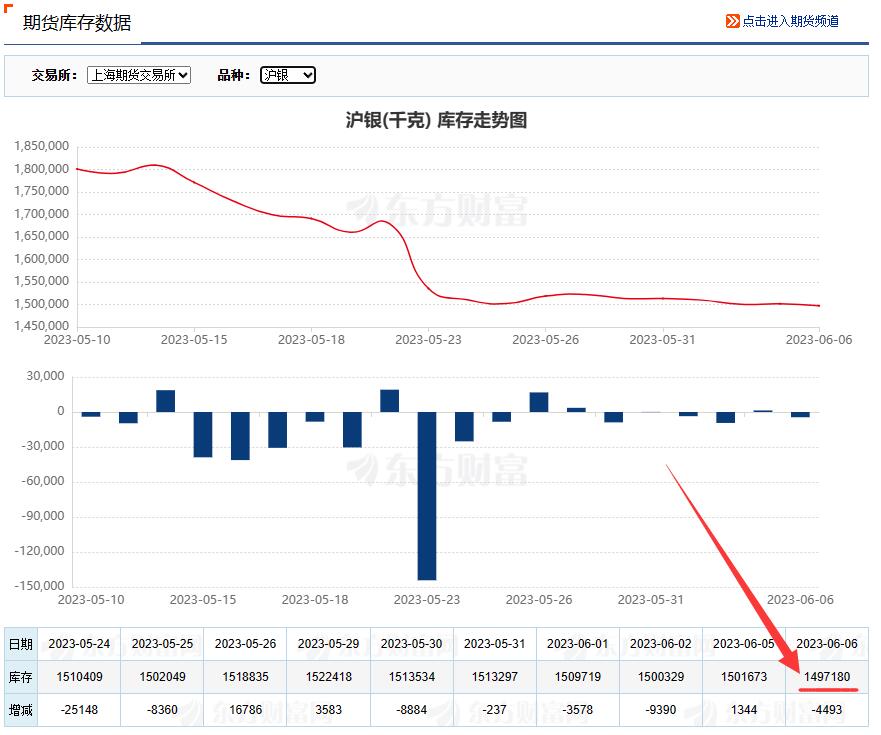 Dolly Varden – Silver in Canada
So, as mentioned earlier, given how chronically tough the silver sector has been there have not been too many success stories in the silver space. It is also  understandable that good teams typically take the easier route and focuses on less volatile metals with bigger markets. This creates the problem of there, in my opinion, being relatively few good silver juniors around. Furthermore, even if a silver junior has some success, it often ends up being heavily diluted due to the fact that the junior space as a whole spends more time in bear markets than it does in a bull markets. Then add whatever jurisdictional filter one is comfortable with and the list of acceptable silver juniors grows thinner still…
In a time where the world is becoming more unstable, and tensions between east and west are rising, I think it makes sense to at least include exposure to some of the better western jurisdictions. As many will know Dolly Varden Silver's flagship project is located in one of the hottest tier 1 jurisdictions in the world which is BC, Canada:
There have been plenty of both M&A deals as well as major miners making investments in juniors with projects. Even BHP, the largest miner in the world, recently became the largest shareholder of Brixton Metals. In other words the majors have been voting with their feet and they seem to believe that BC is a place where major deposits can be found, mined, and where they will be able to keep any potential mines for the long term.
On that note the C$3.2 Billion dollar company Hecla Mining has been a backer of Dolly Varden for a long time. Hecla actually tried to acquire Dolly Varden back in 2016:
"Hecla Formally Commences Takeover Bid for Dolly Varden at 97% Premium" – Source
For better or for worse Hecla failed and today Dolly Varden has a lot more ounces and the growth potential looks better than ever. Lets just say that there is at least one large mining company that obviously is licking its chops when it comes to Dolly.
My case for Dolly Varden in short
For perhaps obvious reasons I am more bullish on silver than I have been in a long time. I also put more and more weight on jurisdictions as the world becomes more chaotic. Those things coupled with the fact that there are so few silver focused juniors with significant resources, growth potential, good share structure, good access to capital and solid management makes Dolly Varden Silver a very rare commodity in my eyes.
Summarizing the merits of Dolly Varden Silver:
Significant, high-grade resources in the ground already (Beta)
Growth potential (Alpha)
Jurisdiction: Tier 1
Access to capital: Good
Management team that has been able to limit dilution and create value
Hecla Mining as a significant shareholder which provides third party validation

Which also has tried to acquire Dolly Varden already
Dolly Varden Silver might not become one of those very rare ten baggers from here, unless silver really takes off, but if one likes silver I think there are few plays out there which should provide both reliable Beta, as well as probable Alpha, in a tier 1 jurisdiction. The silver/gold in the ground is not going anywhere and they might find a lot more of it. At the end of the day I would not be surprised to see Hecla Mining make another take-over attempt but I think it will be done at much higher levels.
Looking Under The Hood
Dolly Varden's project is located in the southern parts of the Golden Triangle, BC, Canada. The company's claim block is mostly surrounded by claims belonging to Hecla Mining, which also happens to be a large shareholder of Dolly Varden:
The infrastructure is actually pretty good. Especially for a junior working in British Columbia. There is a road, power grid, and a tidewater access not too far away. It also has obvious synergies for Hecla Mining to boot.
The resource itself, which provides the beta and margin of safety, is actually spread across several targets. On one hand one might want to see the ounces concentrated but on the other hand the growth potential becomes very attractive when you consider the fact that there are at least seven targets/deposits to grow from:
(Note the scale bar)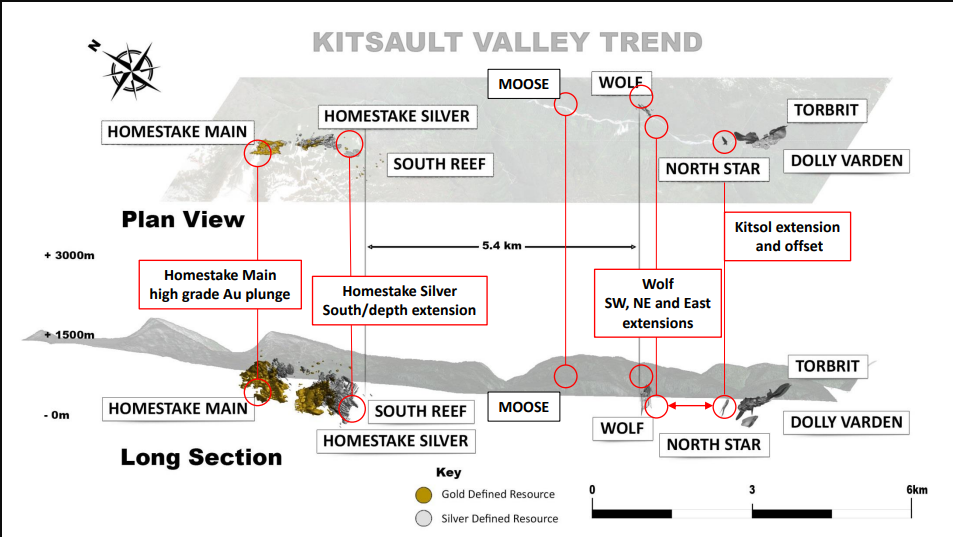 One such deposit is the Wolf deposit which should be able to deliver a lot more of high-grade to bonanza-grade silver: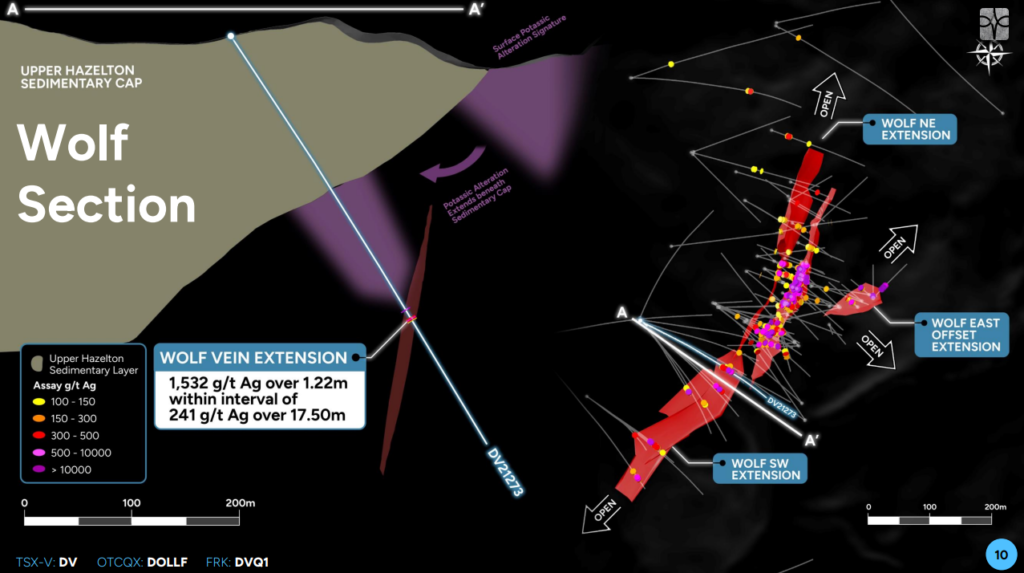 In 2022 the company drilled some very aggressive step out holes and if the working model proves to be somewhat correct then this portion of the property alone ought to add many millions of dollars in value I think: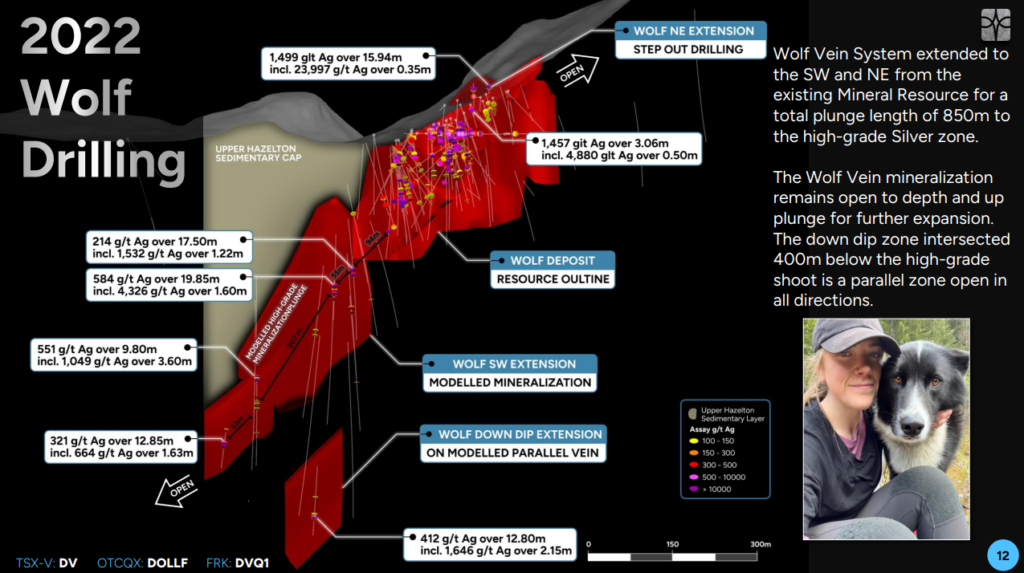 Make no mistake. You get meaningful resources in the ground already, as well as district scale exploration potential in Dolly, given that there are targets scattered along a whopping 15 km "mineralized trend":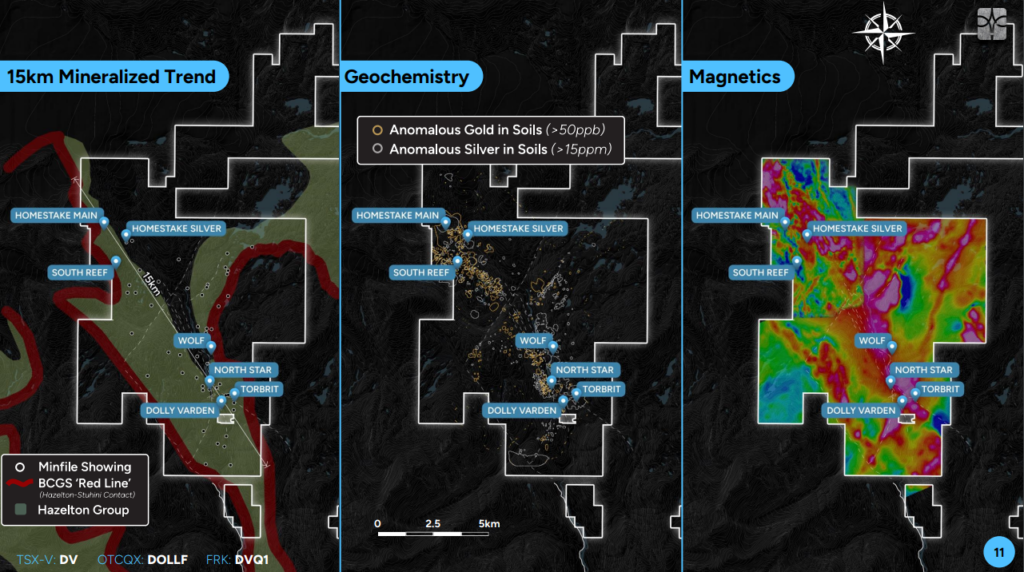 The Homestake deposit brings quite a bit of meat to the bones and during the last drill season we got some pretty ridiculous holes out of it: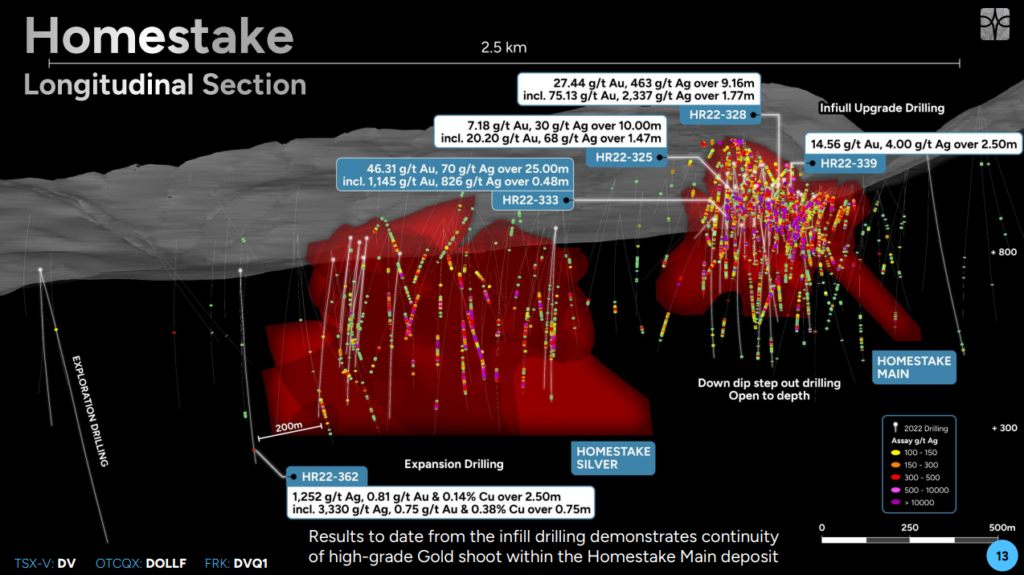 Sure the likes of 46.31 gpt Au and 70 gpt Ag pver 25 meters were located around known mineralization, but this target is very much wide open with hits like 1,252 gpt Ag and 0.81 gpt Au over 2.5 meter, which was drilled some 200 meters from the nearest high-grade hit (bottom left in the picture above). You don't need a lot of >1,000 gpt Ag rock to rack up value quickly.
2023 will be action packed
Dolly Varden has a very aggressive and fully funded drill plan for 2023. Up to 42,000-45,000 meters of diamond drilling is planned and with that amount of drilling there is certainly potential for a big value bump this year:
What might be incredibly impactful is if for example Dolly Varden is able to provide further evidence of a mineralized trend stretching all the way from Torbit to Wolf: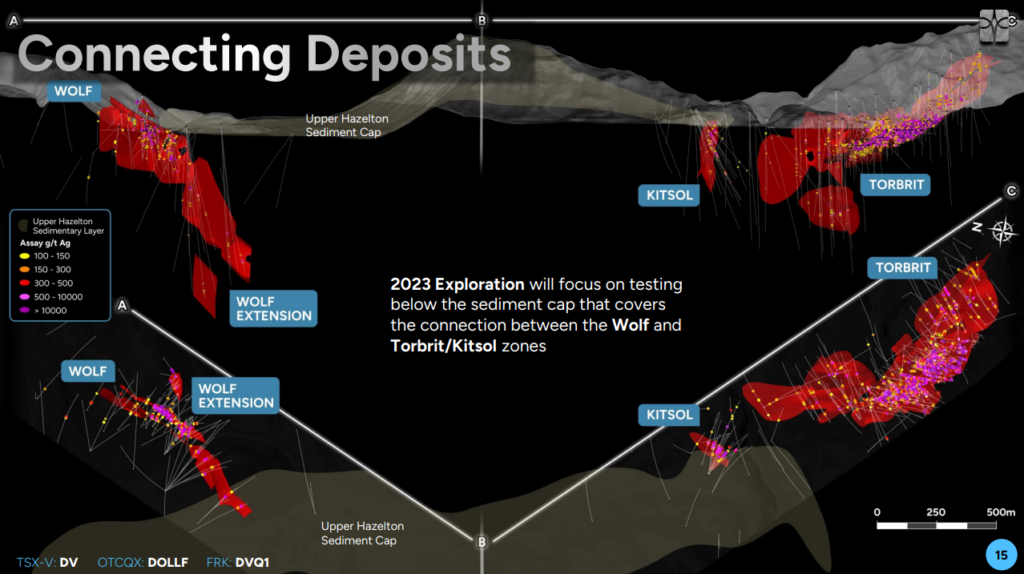 In that case I think the current resource, which is already NOT reflecting the increasing success, might get outdated in a hurry:
Again, the slide above is already a bit outdated, but it does not hurt to have banked ounces on the books already which goes up and down in implied value with the metals prices. In the grand scheme of things I do think this district will prove to host a lot more ounces and that some day there will be a mine here. Like I discussed earlier I would not be surprised to maybe see Hecla building that mine in the future.
Closing Thoughts
Dolly Varden Silver is quite unique given the combination of a) Resources in the ground, c) obvious growth potential, d) access to capital, e) third party validation, f) management team that has proven to be good stewards of investors money, g) an aggressive drill campaign planned for 2023,  and h) located in a tier 1 jurisdiction. I think Dolly Varden is pretty much a no brainer for anyone looking for some quality leverage to the silver theme.
It is not the most high octane high risk/high reward play out there but that is what makes it a good bet in my book. We know they have significant quantities of silver and gold (in banked resources and/or obvious growth potential). One is not risking waking up and suddenly discover that some drill holes missed so one is stuck with a "silver junior with no silver". The question is how much more silver (and gold) there might be. If this year's drilling continues the positive trend of last year I gotta believe that Hecla Mining must be starting to salivate. Especially if the Market Cap would still be around C$180 M…
Gold and silver are rare. High-grade gold and silver ounces in tier 1 jurisdictions are rarer still.
To summarize I would say that Dolly Varden Silver is a relatively low risk silver/gold play, with probable growth, and solid blue sky potential. I expect the company to add value with each passing year for the foreseeable future.
Amateur TA
Well it simply looks like a massive, multi-year consolidation is going on:
Note: I own shares of Dolly Varden Silver and the company is a banner sponsor. Thus consider me biased and do your own due diligence. I cannot guarantee the accuracy of the content in this article. I am not an investment advisor and this is not investment advice. Junior miners are risky. Do not invest money you cannot afford to lose. Assume I may buy or sell shares at any time. Never bet the farm on any single company and expect volatility. I do not share your losses or your profits.
Best regards,
The Hedgeless horsmean