Trifecta Gold is a micro cap junior with a focus on gold in Nevada as well as in the Yukon. I own shares of Trifecta in my well diversified junior portfolio and I was glad to have the company come on as a banner sponsor. This is the case as I see it…
Trifecta Gold in short:
Website: LINK
Ticker: TG.V
MCAP @ $0.09/share: C$7.2 M
Cash: ~C$1.8 M
Enterprise Value: ~C$5.4 M (US$4.3 M)
Shareholders
Condire Investors: 18.8%
Silver Range Resources 9.0%
Strategic Metals: 8.6%
Insiders & Key Consultants (excluding Condire): 11.6%
= 48% in total
My case for Trifecta Gold
Well, it doesn't take too much for me to get interested in a gold junior with a Market Cap of C$7.2 M when gold is trading at around $1,800/oz. Now, I don't go buying any Micro Cap company around because there are quite a few and many of them will stay Micro Caps for a long time since they are not "serious" companies. In the case of Trifecta you actually have a solid flagship project in "Yuge" which is located in a tier #1 jurisdiction (Nevada), great technical people, great insider ownership (incentives aligned with shareholders), decent capital structure and three additional projects in Yukon…
The bottom line is that the company is cheap, while being legit, and that a shift in sector sentiment and/or more success out of primarily their flagship project could revalue the company a lot higher. This is not a "bet the farm" case to me but I would be surprised if I don't see the shares 100%-200% higher at least within the next 12-24 months. I like cases where I can see a Probable Return while also having the chance of a significant Potential Return. At the end of the day the most important thing to me is not overpaying for a company and I can't see how I am overpaying for Trifecta at $0.09/share.
Anyway, juniors overall have almost never been cheaper than they are now so I think it's one of the best times for a mining speculator to be out there accumulating stakes in real companies.
The case for Trifecta Gold in the words of the company: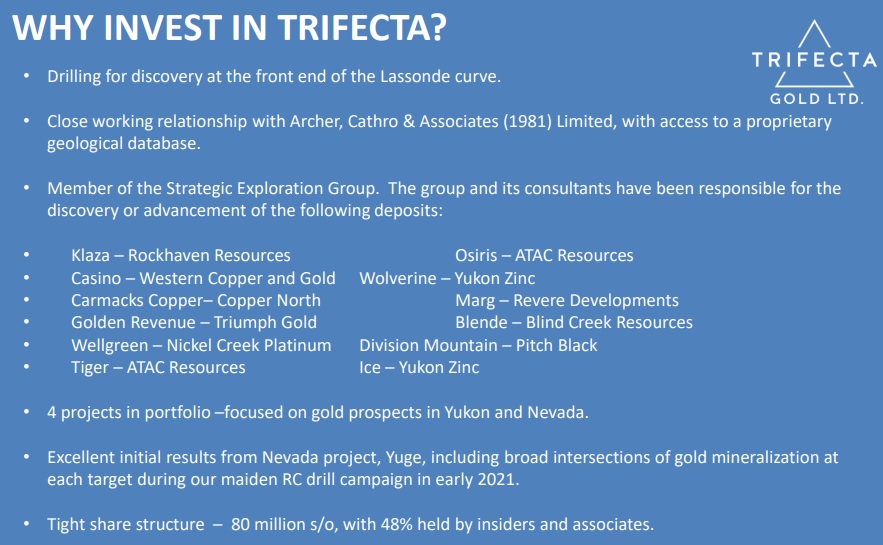 Project Portfolio:
Trifecta's flagship project is "Yuge" which is located in the very mining friendly jurisdiction of Nevada, USA. The company also controls three gold projects in Yukon which is also one of the top jurisdictions in the world. Thus, Trifecta has a pretty good pipeline of projects and ought to be busy for a long time without the need to acquire new projects in a potential future where valuations are high. I really like to own companies that are already set for a multi-year bull in gold and miners.
#1 "Yuge", High Grade gold project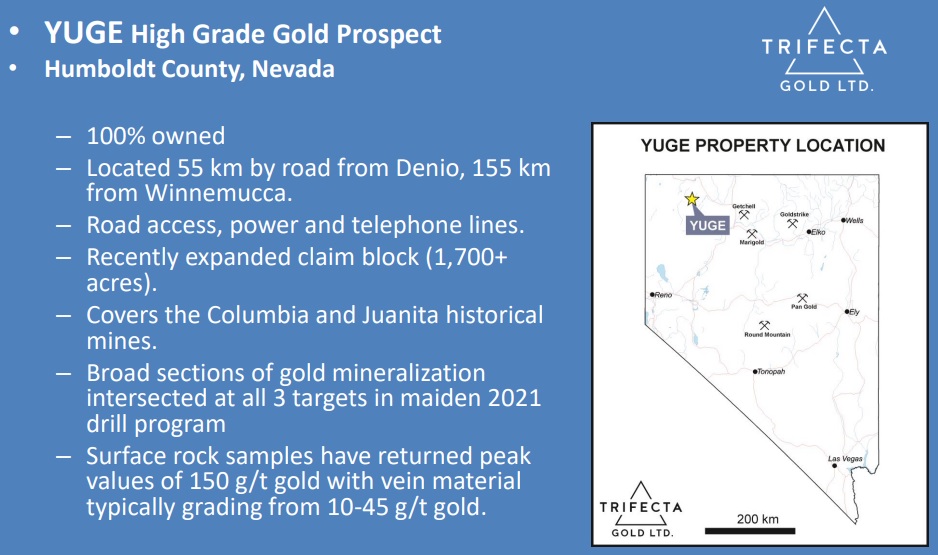 As per usual in Nevada the infrastructure is great, with road access and power nearby. This is very important for an investor since it means that the critical threshold for success is relatively low and the value on any success is relatively high. Meaning that a 1 Moz deposit here might be quite economic and worth developing unlike 1 Moz in the middle of nowhere in say very remote parts of Alaska for example (where 3 Moz with good grades might be required to make a deposit worthy of developing).
The project has shown promising early stage results and it has a history of mining (with good grades):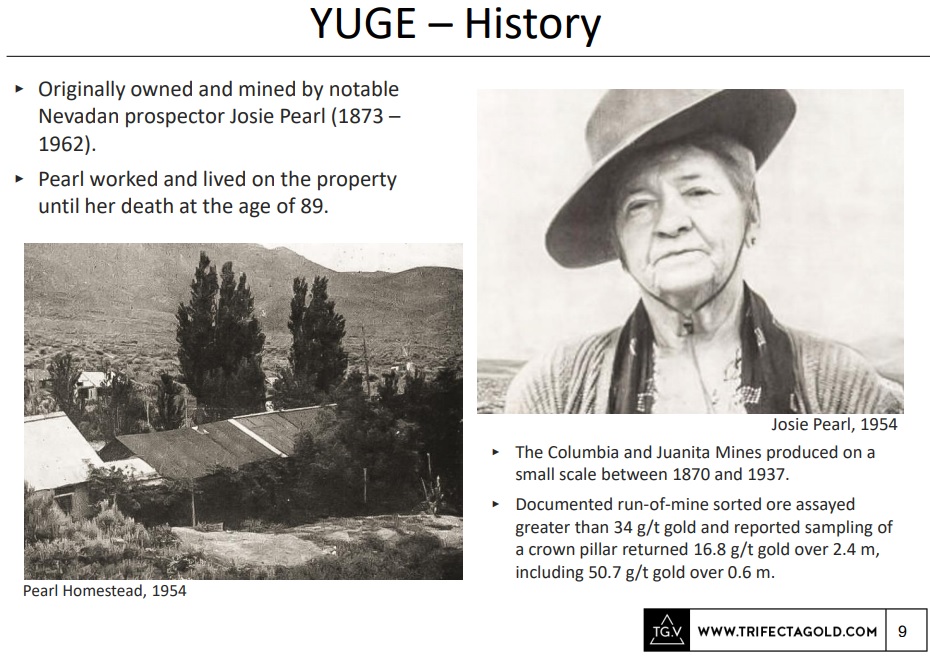 What I like about "Yuge" is that there is evidently a shear zone going through it and in light of that it makes it even more probable that the Columbia and Juanita mine might be part of a larger gold system and could connect: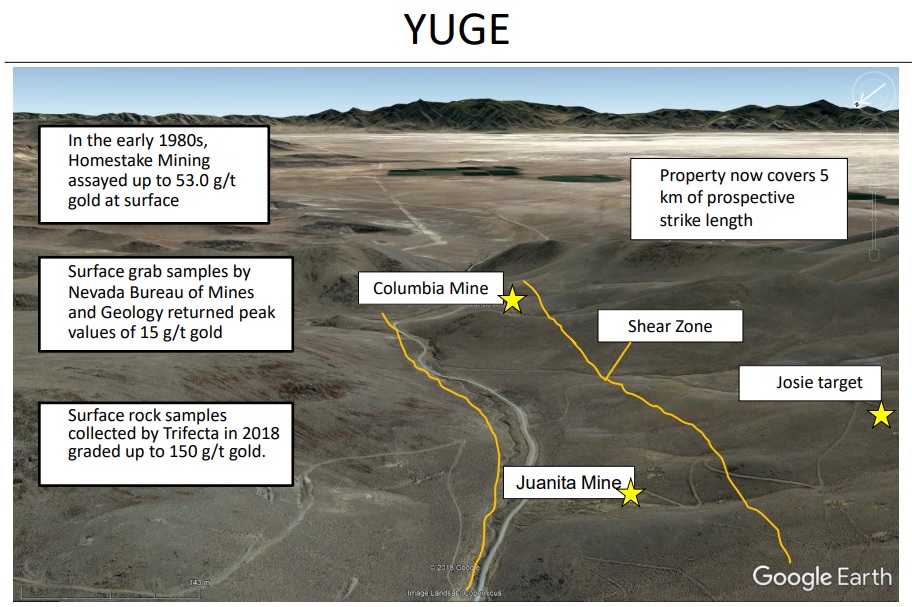 With 5 kilometer of prospective strike length it tells me that there is a lot of runway in terms of blue sky potential when starting off with such a miniscule Market Cap. What is the odds of finding a material, economic deposit? I don't know. What chance is priced in? Say 1%-2%? Is that fair? I don't know. I just know there is some good smoke so there should be a real shot:
… Those are obviously some very high-grade numbers that a prospector won't stumble upon every day. Fortunately the mineralization has been confirmed via limited drilling as well:
Yukon Portfolio
Trifecta Gold controls three projects in the Yukon Territory which is also a tier #1 jurisdiction:
Especially the Eureka Gold Project looks quite interesting given the widespread gold in soil anomalism:
It's located in a pretty busy neighborhood with lots of gold bearing trends heading the way of the very large anomaly:
What's the chance of success and therefore implied value for Eureka? I don't know. Is any of it priced in? Nope. Does it look like a legit project with legit potential? Yes.
Summary in the words of the company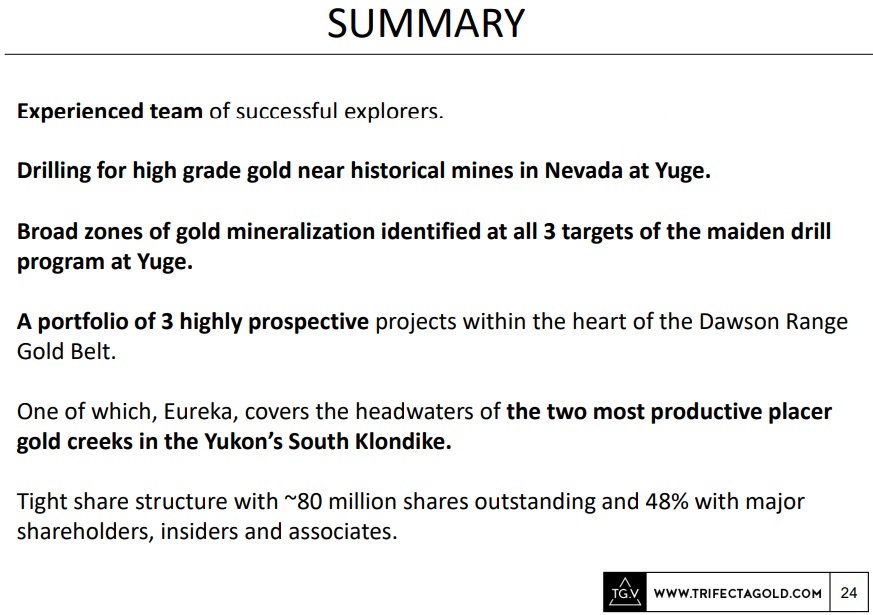 Closing Thoughts
Trifecta is a true high risk/high reward micro-cap play. Chance of material success is low but that is already well beyond priced into the stock. Meaning that in case of success it could very well become much more than a ten bagger. Another benefit with micro-caps is that they can often do hundreds of percent just from a change in sentiment. Currently we are in a very depressed sentiment environment where even good news tend to not lead to a revaluation higher. However, most people have probably seen how quickly things can change. I still remember the Q1 rally of 2016 where it was hard to find a single junior that was not up 300%-600% from the bottom and most of them had done ZERO work during that period. It was mostly sentiment driven… Going from extreme undervaluation due to extremely bad sentiment… To overvaluation due to very positive sentiment. I have no idea when junior sentiment will change but I know it WILL. In the case of Trifecta I expect to be able to see at least a 100%-200% return come next sentiment high if I just sit still… It might of course take some time until that happens but I am patient.
Trifecta Gold has a pipeline that is ready for a metals and mining bull. I don't see the company needing to go out and be a buyer when valuations might be lofty. Having the house in order already is something I need to see in any junior.
As always, one should not bet the farm on high risk/high reward plays in my opinion. It is part of my well diversified portfolio and if Trifecta goes nowhere to down it won't hurt me. If the company finds something material even a small position can have great impact given the current valuation.
Note: I own shares of Trifecta Gold and the company is a banner sponsor. Therefore assume I am biased, do your own due diligence and make up your own mind. This is not investing advice. Miners can be very volatile and risky. Never invest money you cannot afford to lose. Assume I may buy or sell shares at any time.
Best regards,
The Hedgeless Horseman