I believe that there will be some huge moves in the precious metals in the near future since we are nearing the end of some critical wedge patterns in both gold, silver, the silver/gold ration as well as the mining stocks. The direction of the move is unfortunately still unknown, but if we break these trend lines on the upside, I will personally be taking on a bit more leverage.
So here are the charts that are making me very excited in terms of the near future:
Silver is very close to forming a monthly "hammer" candle stick (which is very bullish) while RSI, MACD and TSI are developing much like the way they developing during the second big low after the first big correction during 2009, which is marked in the graph below:
On this second chart of silver we can see that silver is just below the multi year trend ceiling as well as the "recently" formed wedge pattern. On top of that there is a huge multi year resistance/support zone around 18,50-19,00:
GDXJ, the junior miner index is also nearing it's trend ceiling as well as the end of the wedge pattern. What's more is that silver could possibly be in the process of forming the right inverted shoulder of a HUGE inverted "Head and Shoulders"  pattern, which if so would be extremely bullish: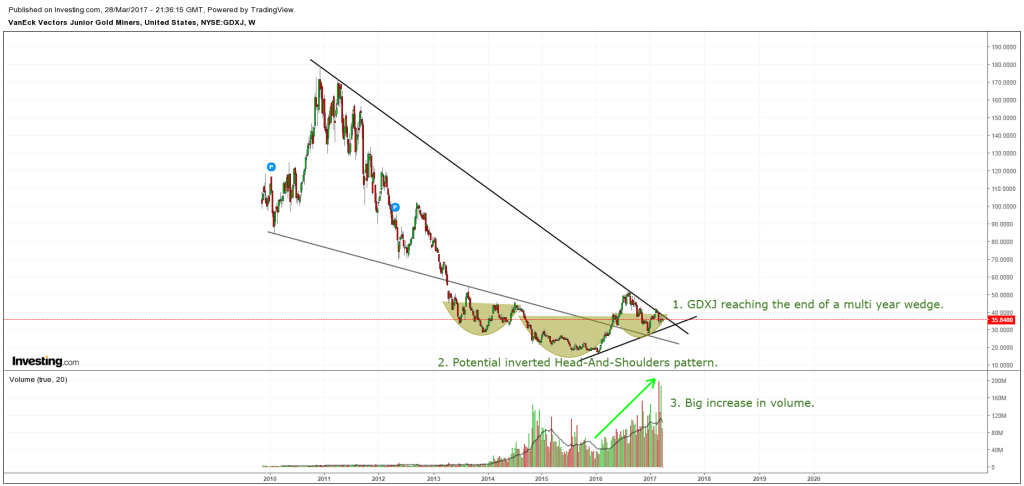 Last up is the "Silver & Gold Ratio" which generally is trending higher in a precious metals bull market. Ergo, silver outperforms gold in a bull market and vice versa. This ratio is also nearing it's trend and wedge ceiling along with silver, gold and the miners:
Summing it all up:
Pretty much every major leading aspect of the gold and silver market is nearing a "do or die" moment. All at the same time. A legitimate break on the upside on all of these charts would be a major signal that the bull is indeed alive and well, which should then also kick start the next major leg up.