Lion One Metals is one stock that I think could do very well in the coming six months with little to no help from the price of gold. Reasons for that belief will be laid out in this article…
First thing's first, what do you get in Lion One today?
The People
Walter Berukoff, Chairman and CEO
Sold Northern Orion to Yamana for $1.1 B
Sold Mirimar to Newmont for $1.5 B
Sold La Mancha to Weather Investments for $600 M
Stephen Mann, Geologist, Managing Director
Ex BHP, Newcrest, Cogema/AREVA, La Mancha & Avocet Resources
Quinton Hennigh, Economic Geologist
Ex Homestake, Newcrest & Newmont
Chairman of Novo Resources
Kevin Li, Egnineer, Tuvatu Project Manager
Ex Fluor, SNC-Lavalin, Saskpower, Project Controls, Pretium Resources
New Director: David Tretbar
The Project
A giant Alkaline Gold System in Fiji with Tier 1 potential
Other Alkaline Gold systems in the region:

Porgera, 25 Moz
Lihir, 40 Moz
Vatukoula, 11 Moz

Current Resource: ~1 Moz

Less than 10% of the system is explored laterally
Major depth potential exists as well

PEA

NPV of ~US$150 M from less than 1 Moz with very high IRR
Capital Structure: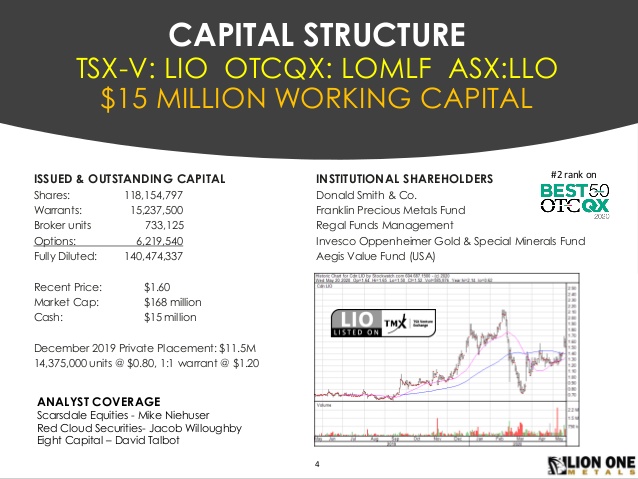 My preferred investment requirements for a core holding (Which very few companies have):
World class people: CHECK
Margin of safety: CHECK
Probable upside: CHECK
Long runway/High Potential upside: CHECK
The case for Lion One Metals is rather simple in my eyes. I get a company run by world class people with; a) a high grade resource, b) a solid PEA that suggest even a start mine should be highly economical, c) what looks to be enormous exploration potential. It's the recipe any conservative investor/speculator would want to see… Asymmetrical risk/reward.
The caliber of the people involved greatly increases the chance of success. The project having a current ~1 Moz resource of high grade gold with a solid PEA for a start project means that there is something of real substance underpinning the company. The nature of Alkaline Gold Systems and all the information known to date also suggest that the company has barely scraped the surface of this system.
More on People
Lion one is headed by Walter Berukoff who is arguably one of the most serially successful businessman in the space. He has developed multiple resource companies up to the point that they were acquired by very large entities to the tune of $1B+.  Most resource companies will not amount to anything and the amount of people who have been serially successful in this business could probably be counted on two hands. People who have been able to build and sell multiple companies for $500 M to $1.5 B are like unicorns. Another rare example would be Ross Beatty who has also been able to build and sell multiple companies. Beatty wasn't able to do this because he was a top 5 geologist and mine finder in the world but because he is, like Walter Berukoff, a great entrepreneur and business man.
It's important to remember that people create value and some are way better than others at it. One success could be an anomaly but to be seriously successful you need more than luck.
So Lion One has one of the best entrepreneurs and value creators in the space heading the company. The company also has two veteran geologists who used to work for some of the largest mining companies in the world in Quinton Hennigh and Stephen Mann. These are the people who will help create value by finding more gold and I think Mr Berukoff could not ask for better rock whisperers than this.
Lion One recently came out with a news release that stated: "Lion One Appoints David Tretbar to the Board of Directors".
This appointment is a big deal in my eyes since Mr Tretbar brings a wealth of experience from pretty all facets of a mining company:
Mr. Tretbar is currently Vice President, Exploration and Mineral Resources of Denver-based Summit Mining International, a 100% owned subsidiary of Sumitomo Corporation of Japan, where he is responsible for developing exploration programs, implementing exploration and resource development strategies, and providing technical support in all aspects of mine and mill production at Minera San Cristóbal in Bolivia. He also performs project due diligence for strategic alliances and joint ventures, and executive support functions within Summit Mining and its parent Sumitomo Corporation.

Mr. Tretbar has wide-ranging experience in surface and underground exploration, resource modeling, mine development and production, laboratory operations, mineral analysis, process metallurgy, and project management. Prior to joining Summit Mining International in 2010, Mr. Tretbar held a number of operational management level positions, including Chief Mine Geologist for Golden Minerals at Minera San Cristóbal, and both Mill Manager and Manager Engineering & Geology for the Ashdown Molybdenum Mine in Nevada.

Mr. Tretbar has worked as an underground mine geologist at several Nevada gold mines, including 4 years at the Getchell Mine where he conducted his Master's degree research on geochemistry and mineralization of the deposit. He later spent 2-½ years as process mineralogist for Barrick Gold Corporation at the Goldstrike Operation.

From 2004 to 2007 Mr. Tretbar was senior exploration geologist for Alamos Gold at their Mulatos Mine in Sonora, Mexico. While there he designed and directed construction of 2000 meters of exploration tunnels and managed near-mine exploration programs. At the narrow-vein, high-grade Ashdown Molybdenum Mine in northern Nevada, David simultaneously managed the molybdenum flotation plant and designed the underground ramp access and stope sequence mining plans.
This might be one of the most well rounded guys in this space I have ever seen and he is vice president of a 100% owned subsidiary of a $40 B entity. Mr Tretbar has experience in all things mining and would thus know very well how every piece of a mining enterprise fits together.
Summing Up
Company Building: Walter Berukoff
Exploration: Quinton Hennigh & Stephen Mann
All Things Mining: David Tretbar
I would argue that Lion One Metals now has very competent people in place for the whole value chain of finding gold, building a mining company and finally selling it.
The Project
First of all it wasn't until quire recently that Lion One was able get control of the entire Navilawa Caldera, and it took  seven years to do it: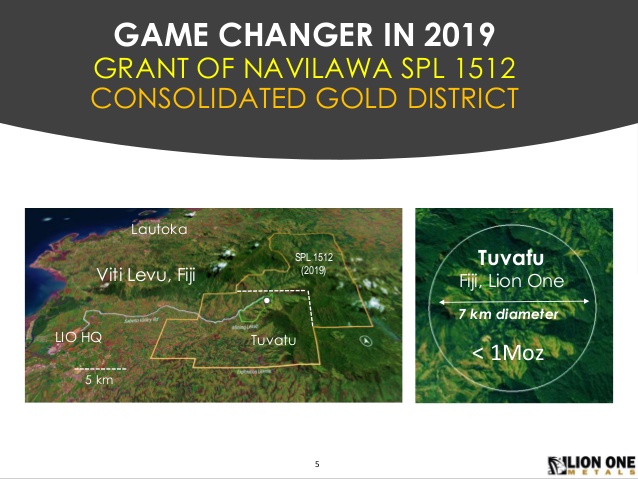 … Patiently waiting for seven years to consolidate an area points to very high expectations for said area. Now I will try to show you why the wait might have really been worth it…
Lateral Potential
First Sign: BLEG sampling
Let me start off by showing the regional BLEG sample results:
… Warmer colors show higher gold concentrations. What is beyond obvious is that there is "leakage" of gold over an area that far surpasses the area above the current resource (outlined in black). One could argue that the BLEG sampling is suggesting that the lateral potential is orders of magnitude higher than what the company has been able to explore, so far.
Second Sign: Radiometrics
Potassic alteration is another clue as to where alkaline (potentially gold bearing) fluids have penetrated the rock: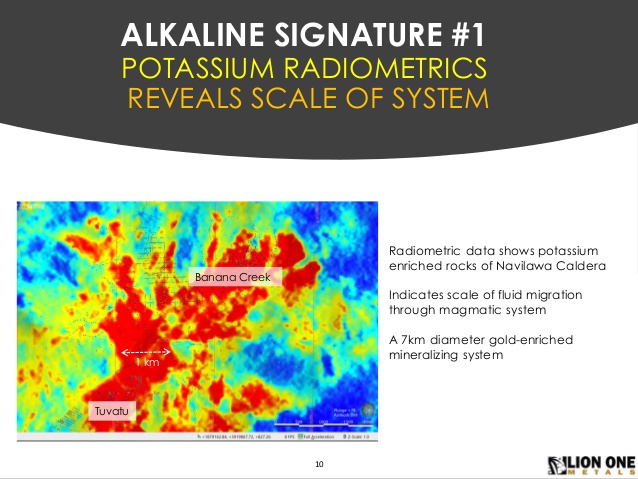 … Sure enough, the Potassic alteration is also suggesting that the lateral potential might be orders of magnitude higher than the current resource area. To give you a sense of scale I have included the current Tuvatu resource in the slide below: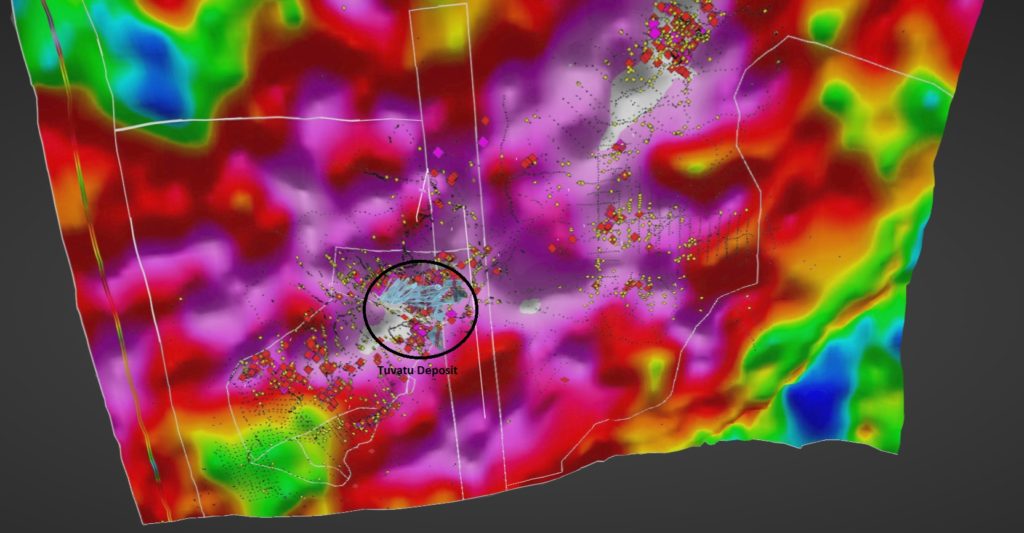 … How many "Tuvatus" can you fit within that potassic anomaly? Food for thought.
Third Sign: Prospecting
Geophysics and soil sampling is good and all but at the end of the day the question will always be if there actually is potential for economic concentrations of gold. Well, Lion One's prospecting is thankfully suggesting that the "theoretic" potential suggested by the BLEG sampling and Potassium readings might actually be true: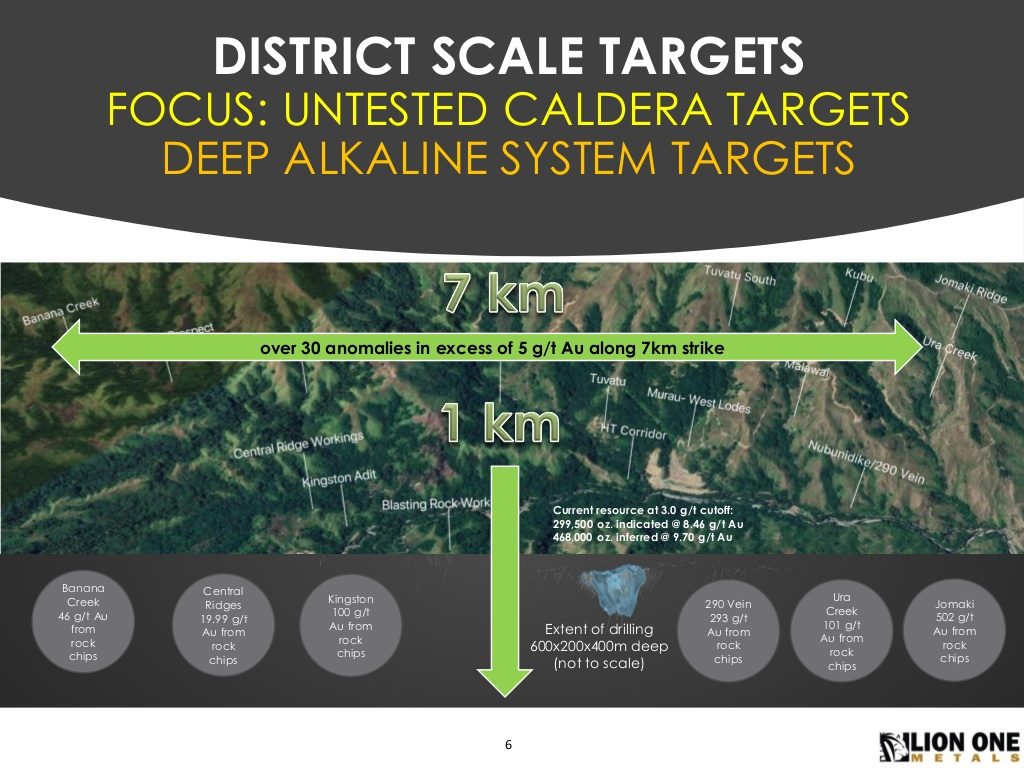 … Lion One has indeed found high- to bonanza grade gold through the entire diameter of the Navilawa Caldera as you can see in the slide above. You can read more about some recent prospecting results in this News Release.
To Sum Up
BLEG sampling and Radiometric readings suggest that the lateral potential of this Alkaline Gold System is orders of magnitude larger than the current Tuvatu resource and the prospecting results further confirms this thesis. While all this is mouth watering in itself, it still doesn't capture the entire potential of the system, simply because these Alkaline Gold Systems tend to be deep rooted to boot!
Vertical Potential
The vertical potential will of course work as a multiplier to any lateral potential in terms of total potential. So far Lion One has only explored down to a few hundred of meters at depth and the recently completed CSAMT survey suggests that the lodes at Tuvatu might extend a lot further down:
… Again, this should not come as a surprise since many of the large Alkaline Gold Systems around the world extend over a kilometre at depth. In other words Lion One might have just scratched the surface (and only the surface in a very small area to boot):
When you combine the [lateral] and [vertical] potential one will realize that Lion One has probably only explored a few branches of a very large and deep rooted tree. On that note, Lion One's early efforts have already started to pay off given that the company has already intercepted the Tuvatu lodes 70 m deeper.
Going Forward
The main reason for writing this piece now is the fact that Lion One should have a very busy second half of this year. The company recently announced that a second drill rig has arrived and drilling has started. Furthermore the company has purchased a third drill rig which is expected to arrive in late July. Thus, Lion One has gone from using one drill rig to soon be using three drill rigs in order to considerably speed up exploration within the caldera.
Description of what rig #2 is doing:
"… its #2 diamond drill has commenced drilling at a newly defined high-grade target called Biliwi within the new Navilawa tenement. In a news release dated February 19th, 2020, Lion One discussed discovery of high-grade surface samples at Biliwi that included 60.4 g/t Au over 0.40 m, 94.8 g/t Au over 0.40 m, 17.90 g/t Au over 0.75 m and 83.60 g/t Au over 0.45 m."
Description of what rig #1 is doing:
"At Tuvatu, the #1 diamond drill is currently drilling hole TUDDH497 at the same azimuth but 6 degrees steeper than recently completed hole TUDDH496. Both of these holes test the east-west trending Murau lodes, part of the Tuvatu West lode network. Stephen Mann, Managing Director of Lion One commented "We are very excited by the structures identified in the last few holes (TUDDH 494, 495, 496 and 497). We have clearly demonstrated that the structural corridors highlighted in the CSAMT geophysical survey are real and are the host of mineralising fluids. The intervals drilled into these structural corridors have intersected zones of very good alteration including pyrite, carbonate and alkaline feldspars, as well as traces of base metals which have proven to be good pathfinders. In addition, several very fine specks of visible gold have also been recognised. "
Lion One was one of the best performing juniors on the exchange before the COVID panic hit. Lion One was not spared and panic selling led to the share price being more than cut in half before rebounding. It didn't help that the one rig which was in operation wasn't capable of drilling deep enough to test the Tuvatu lodes any deeper. These factors combined is the reason why the upward momentum was stopped and the share price has been stagnant lately. Bear in mind that nothing happened to the project or the company's fundamentals.
The important thing now is that I expect the second half of this year to be significantly more exciting than the first half primarily because there are soon THREE drill rigs in operation compared to ONE rig that couldn't drill deep. Exploration stories are hot overall at the moment and I think "The Lion King" might come back with a vengeance sooner rather than later since the bottle neck is gone and the amount of drills has gone up.
I think it is also worth pointing out that the company is quite advanced when it comes to preparations for a starter mine operation and I think the success and attractiveness of this route has gone up a lot with the addition of David Tretbar:
… The company also has its own assay lab to boot!
Closing Thoughts
If you're looking for a high- to bonanza grade story run by world class people, with gold in the ground, a fully permitted mine, earthworks almost complete, underground workings, its own assay lab and tier 1 exploration potential then Lion One Metals should definitely be on your radar. Personally I think it's a top 3 story in the entire space when it comes to risk/reward at the current valuation. C$152 M in Enterprise Value for all of the above is ridiculously cheap in my opinion. The best peer comparison might be K92 Mining which also has a high grade Alkaline System in PNG and is already in production with a MCAP of C$784 M. I also think The Lion is gonna go from "boring" to exciting in the not too distant future.
For what it's worth I just want to point out that it looks like the stock is in an enormous consolidation phase and that if/when the stock finally breaks $2 it might lead to violent rally towards $4 in a hurry: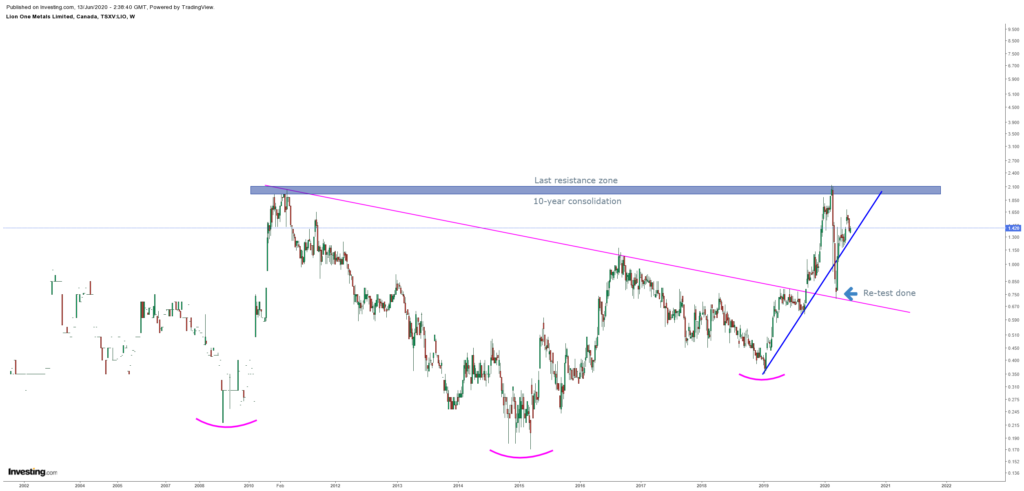 … Keep in mind that I am not a Technical Trader and that I just look at charts for fun mostly. I own Lion One because I think PRICE is a lot lower than the EXPECTED VALUE which makes it a great Risk/Reward case in my book. Furthermore the company has some hidden value in the form of the Olary Creek Royalty etc which I don't even feel the need to include since I think the Navilawa Caldera alone warrants a higher valuation.
More pictures from my latest site visit
Quinton and Wally explaining how a drill rig works:
Wally pointing to the money maker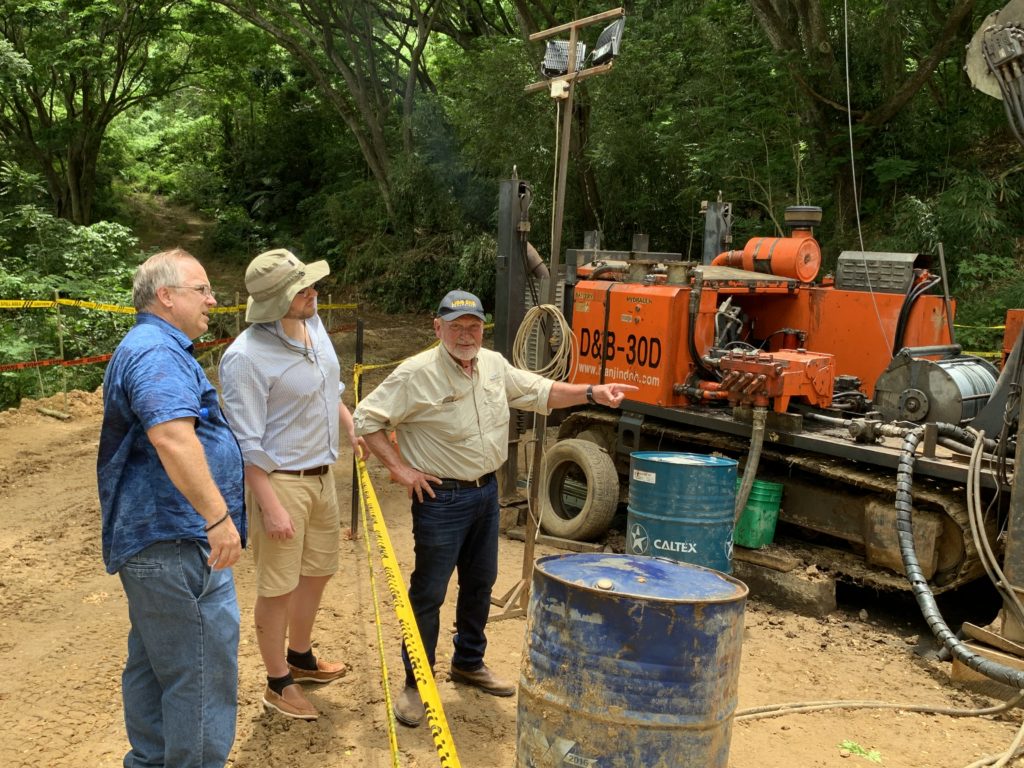 The face I make when I see a disgustingly rich lode, underground at Tuvatu:
Paradise on earth(?)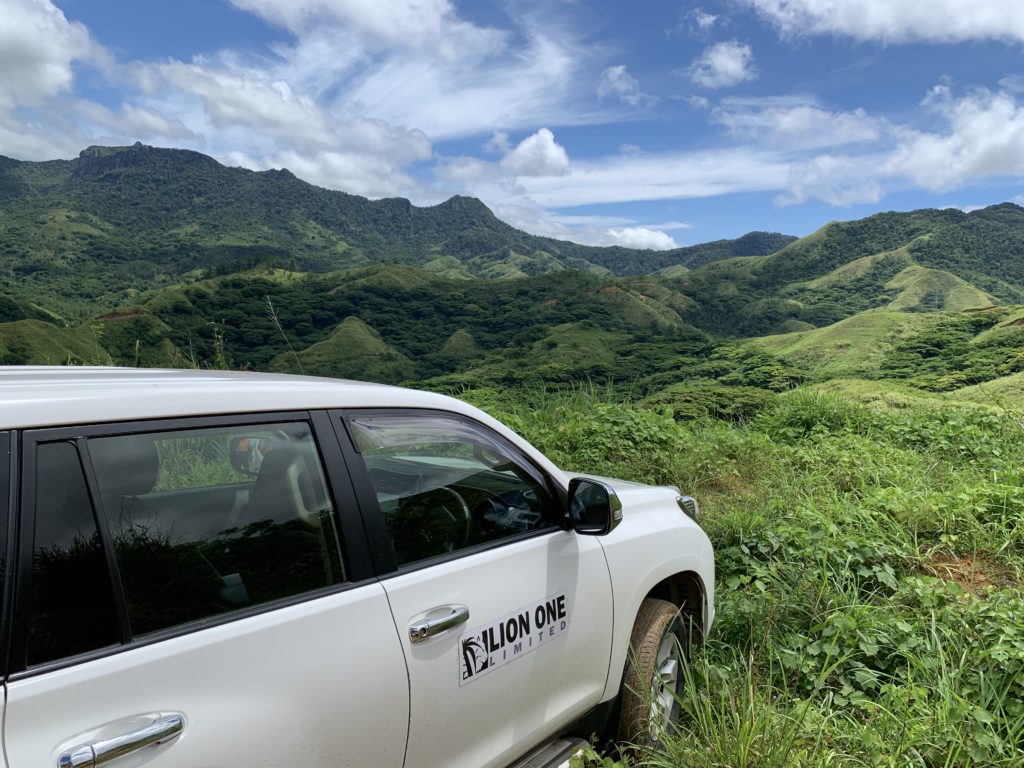 (Note: This is not a buy or sell recommendation. This is not investment advice and I am not a geologist. This article is highly speculative, forward looking and I can't guarantee accuracy. Always do your own due diligence. I own a lot of shares of Lion One Metals which I have bought in the open market and am thus biased.  Lion One Metals is a passive banner sponsor on my site and the company paid for my trip to see the project!)
Best regards,
The Hedgeless Horseman / Erik Wetterling
Follow me on twitter: https://twitter.com/Comm_Invest
Follow me on CEO.ca: https://ceo.ca/@hhorseman
Follow me on Youtube: HERE