North Vancouver, British Columbia–(Newsfile Corp. – March 9, 2021) – Lion One Metals Limited (TSXV: LIO) (OTCQX: LOMLF) (ASX: LLO) ("Lion One" or the "Company") is pleased to announce the delivery and mobilization of two new drilling rigs and continued high grade gold results from surface drilling and underground channel sampling programs from the Company's 100% owned fully permitted Tuvatu Gold Project in Fiji.
The two new Canadian built Zinex drill rigs and related equipment were purchased in late 2020 and arrived at the Port of Lautoka in Fiji in the second week of February prior to clearing customs and being delivered to the project site. The two new rigs have 1,000 meter depth capacity, can be utilized from surface or underground, and are scheduled to be fully operational by late March.
"With the deployment of these rigs the Company will have six rigs operating as it transitions into Fiji's dry season, with four rigs focused on continued near surface and deep drilling at Tuvatu, and two rigs focused on drilling CSAMT anomalies exceeding depths of 1.2km in the surrounding Navilawa Caldera," said Lion One CEO, Walter Berukoff.
The Company's other two deep capacity rigs are currently drilling holes (TUDDH-522 and 523) targeting extensions of TUDDH-500 which previously intersected 1,400 g/t Au over 0.30m (see NR dated Aug. 17, 2020). These two current holes are expected to hit target depths of over 800m in coming weeks.
Additional near surface high-grade gold results have been received from Hole TUDDH-521, which has intersected four shallow high grade intercepts infilling near-surface gaps in or adjacent to the current lode resource model. These results from TUDDH-521 combine with the recently completed TUDDH-520 which intersected 21.31 g/t Au over 12.45m including 544 g/t Au over 0.35m at a vertical depth of 75m (see NR dated Feb. 3, 2020) to demonstrate a significant increase in the grade of the lodes in this area.
Table 1: Latest results from TUDDH-521
| | | | | |
| --- | --- | --- | --- | --- |
| Hole | From (m) | To (m) | Length (m) | Gold (g/t) |
| TUDDH521 | 57.59 | 57.72 | 0.13 | 51.69 |
| | 69.70 | 71.57 | 1.87 | 8.17 |
| includes | 70.00 | 70.50 | 0.50 | 25.34 |
| | 74.12 | 76.10 | 1.98 | 8.52 |
| includes | 74.84 | 75.22 | 0.38 | 30.05 |
| | 78.56 | 82.06 | 3.50 | 5.30 |
| includes | 81.83 | 82.06 | 0.23 | 32.23 |
 Note: True widths of lodes are believed to be approximately 70% of reported drill intercept lengths.
The Company also reports that Lion One Fiji personnel have modified the existing Tuvatu underground workings in preparation for underground drilling and undertaken systematic sampling of the principal lode structures identified in this area. Several select high grade channel samples exceeding 50 g/t gold were recently taken with the highest values of 560 g/t Au over 0.10m, 91.77 g/t Au over 0.13m, 60.46 g/t Au over 0.12m, and 56.94 g/t Au over 0.11m (SKL lode), with 43.67 g/t Au over 0.15m (Snake lode), and 45.63 g/t Au over 0.13m (UR2 lode). (see Figure 1 below)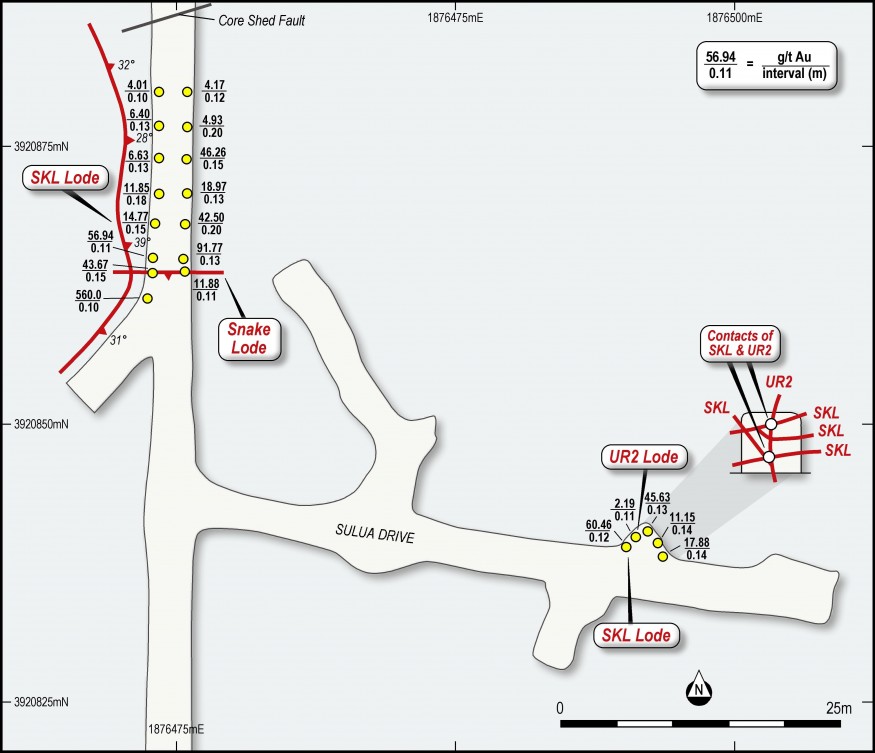 Figure 1: Underground sampling from fresh exposures in Tuvatu Underground
Table 2: Survey details of diamond drill holes discussed in this release
Hole No
coordinates
RL
dip
azimuth
Depth
N
E
(m)
(TN)
(m)
TUDDH521
3920568.68
1876341.38
287.37
-45
130
167.2
TUDDH522
3920483.67
1876723.34
359.48
-71
305
372.5*
TUDDH523
3920460.32
1876585.14
318.55
-85
201
449.9*
                             *Holes in progress
Drilling and Assay Processes and Procedures
The Company is utilizing its own diamond drill rig, using PQ, HQ and ultimately NQ sized drill core rods. Drill core is logged by Company geologists and then is sawn in half and sampled by Lion One staff.
Samples are analyzed at the Company's own geochemical laboratory in Fiji, whilst pulp duplicates of samples with results >0.5g/t Au are sent to ALS Global laboratories in Australia for check assay determinations. Assays reported here will be sent to ALS Global Laboratories for check assays shortly. All samples are pulverized to 80% passing through 75 microns. Gold analysis is carried out using fire assay with an AA finish. Samples that have returned grades greater than 10g/t Au are then re-analyzed by gravimetric method. Lion One's laboratory can also assay for a range of 71 other elements through Inductively Coupled Plasma Optical Emission Spectrometry (ICP-OES), but currently focuses on a suite of 9 important pathfinder elements. All duplicate anomalous samples sent to ALS Townsville, Queensland, Australia are analyzed by the same methods (Au-AA26, and also Au-GRA22 where applicable). ALS also analyze for 33 pathfinder elements are analyzed by HF-HNO3-HClO4 acid digestion, HCl leach and ICP-AES. (method ME-ICP61).
CLICK HERE to read the full news release.