This article will be outlining my personal/subjective case on District Metals and why I have increased my position significantly in recent times. Since I am a fairly large shareholder and District is a banner sponsor you should consider me biased and do your own due diligence! I do not share your potential profits or losses.
Website: LINK
MCAP (Basic):  C$16 M (at $0.15/share)
Cash: ~C$2.5 M
Enterprise Value: ~C$13.5 M
Recent interview with CEO Garrett Ainsworth: LINK
My case in Short
Garrett's Ainsworth of NexGen Uranium fame, and nowadays CEO of District Metals, has gone on an Uranium staking spree in Sweden in hopes of the moratorium (ban) being lifted sooner rather than later. If this were to happen then District Metal's portfolio of Uranium assets in Swede would all suddenly go from being almost worthless on paper to worth… Well a lot more than worthless. The portfolio includes the lion's share of the Viken deposit which is the second largest Uranium deposit on earth. This fresh Uranium potential is in addition to the three base metal projects in the famous Bergslagen district as well as the copper project in BC, Canada.
Visualization of how I see District Metals: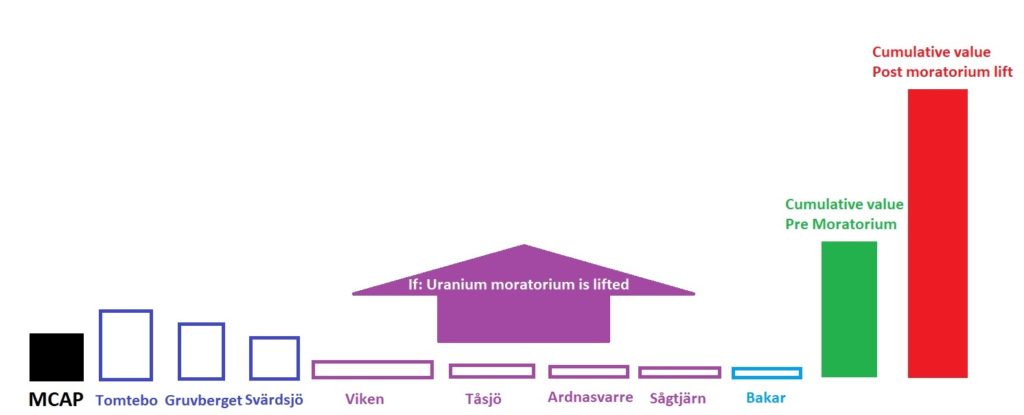 Setting The Scene
I originally bought into the District Metals story a couple of years ago, and acquired shares, for their base metal projects int he heart of the prospective Bergslagen district in Sweden. The Bergslagen district hosts the majority of Sweden's historic mines and has seen mining for over a thousand years. Today the district hosts world class (operating) mines like Garpenberg (Boliden) and Zinkgruvan (Lundin Mining).
When the bear market in junior miners started for real the company made the very sound decision to limit activities, and therefore burn rate/dilution, instead of diluting for potential success that the market currently does not reward anyway. Noting has changed with the projects value-wise but the three projects in Bergslagen were simply put on "hold" until sentiment improves.
But CEO Garrett Ainsworth has been anything but idle. Garrett happens to be one of the key personnel that made NexGen Energy (NXE.TO) into a 3 billion dollar success thanks to an incredible uranium discovery in the Athabasca Basin, Canada. And as fate would have it the winds of change started to blow in Sweden in terms of the country's stance on uranium mining (Since 2018 there has been a moratorium on uranium mining in Sweden which obviously killed the exploration for it). But before the moratorium happened a company was able to prove up the second largest uranium deposit on earth which is called the Viken deposit. The company that owned the Viken deposit before the ban reached a Market Cap of more than $100 M if I am not mistaken. But after the moratorium went into effect every single uranium deposit was obviously worthless on paper.
Winds of Change
The moratorium went into effect when Sweden had a left leaning government and a right leaning government took power last year (for the first time in quite some time)…
Over the last 12 months there have been a barrage of news out of Sweden which is pointing towards a possible lifting of the moratorium (source):
If I had to speculate I think there are quite a few things at work here. Not only is the right leaning government unsurprisingly more mining friendly but ever since the war in Ukraine started the EU has been forced to increasingly care about things such as securing domestic supply of critical commodities. Then there is obviously the increase in tension between the East and West which has produced events such as China banning the export of some specialty commodities.
These winds of (possible) change in Sweden have not gone unnoticed by everyone…
An individual who made a ton of money in NexGen Energy and who is often interviewed for his insights on uranium and uranium miners is Warren Irwin from Rosseau Asset Management Ltd. Well he was interviewed about a month ago, and when asked about uranium juniors that he does like, he stated that he has a stake in District Metals:
I don't know much about uranium or uranium mining personally so I do take note when one of the most successful uranium investors throws (some) money at it.
Niger, The Perfect Storm…?
Niger? what about it?
Well… The country happens to be a large supplier of uranium to France and Europe:
"Euratom said in 2022, Niger delivered 2,975 tonnes of natural uranium, or 25.4 percent of the EU's supplies." – Source
Well… There was a military coup late last month and General Abdourahmane Tchiani overthrew the sitting president. – Source
And… It appears that Niger may have, or planning to, cut off uranium supplies to Europe: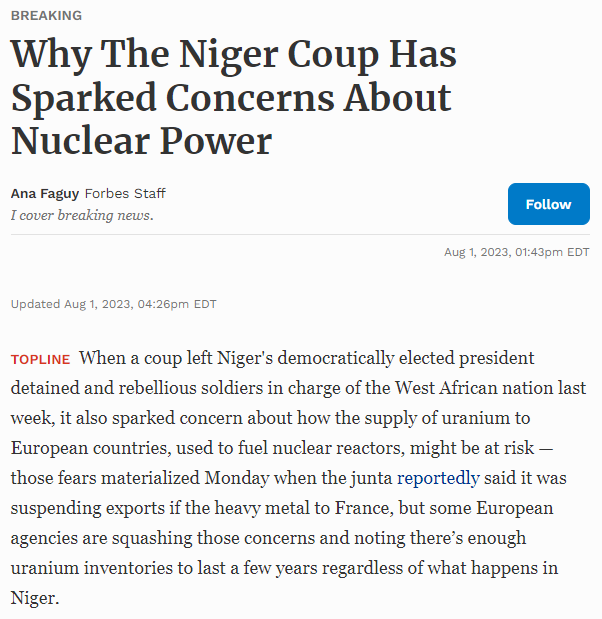 From the same article:
"Euratom, the EU's nuclear agency, told Reuters Tuesday it sees no immediate risks to the EU's nuclear power production if Niger cuts its deliveries because of the coup, and added that there are enough uranium inventories to fuel EU nuclear power reactors for three years."
Now I don't know if Niger has cut, will cut, or will not cut off uranium exports to Europe but I don't think it really matters. The cat is out of the bag and this simply forces EU to put even more focus on securing more stable sources of uranium. And wouldn't you know, Sweden is estimated to host 27% of Europe's uranium resources (Source). And wouldn't you know, Sweden is one of the least densely populated countries in Europe. If there was pressure on Sweden to lift the uranium moratorium before then I think it recently got jacked up more big time.
This is almost turning into a perfect storm and I wonder if there is a single junior miner in the world which might benefit more from this coup than a junior that has been on a uranium staking spree in a northern European country called Sweden.
The Niger coup is what triggered my increase in buying because I now believe that there is a better than 50% chance that the uranium moratorium will be lifted within 6 months (Not a promise, just my personal belief).
In Summary
What do you have in District Metals?
You have a CEO who really understands uranium and was part of the biggest uranium junior success stories in recent times
You have one of the most successful uranium investors as a shareholder (Got into the latest PP if I had to guess)
You have the lion's share of the second largest uranium deposit on earth (Low grade but enormous)
You have three additional, and higher grade, uranium projects and counting
You have three intact base metal projects in the famous Bergslagen district
You have a copper play in Canada
As I see it the intrinsic value of the base metal projects more than cover the current Market Cap and thus provides a Margin of Safety in my book. In other words I thin District Metals would be cheap even without a single uranium project. But the company happens to have one extremely large uranium project and three projects that are variably advanced. Said uranium projects currently almost worthless, on paper, given that the moratorium has not (yet) been lifted. But if the uranium moratorium is lifted then District Metals face value ought to multiply.
"Buy cheap, sell dear" they say…
In 2021 District Metals was trading over $30 M on the Tomtebo potential alone really. Since then the PRICE has gone down 70% while the number of ASSETS have gone up 7-fold. If one could consider District Metals to be at least close to fairly valued when the market sentiment was not in fire sale mode then I wonder how cheap it might be now…
Blue Sky Scenario
District Metals has secured at least four significant Uranium projects
Sweden lifts the moratorium on uranium
District Metals quantum leaps as four or more projects goes from almost being worthless on paper to being possible sources of future EU supply
The price of uranium goes on a tear as a bonus and District Metals benefits given its huge leverage via the Viken deposit
District Metals spins out either the base metal or uranium projects in another vehicle and District Energy and District Metals are formed
The base metal co is worth as much or more than the current MCAP and I get a ten bagger or more from District Energy
Note: We do not know if the moratorium WILL be lifted nor WHEN. This is the "Risk" I take in order to get the potentially significant Rewards if it does happen.
District Metal's Portfolio
Base metals (The Bergslagen district)
Tomtebo (Flagship project in Bergslagen)

Tomtebo covers an area of 5,144 ha, and is located 175 km northwest from Stockholm in Sweden.
Historic production at the Tomtebo Mine comprised 120,000 tonnes at 4.4% Cu
historic production at the Lövås Mine comprised 330,000 tonnes at 3.5% Zn, 2.5% Pb, and 30g/t Ag

Gruvberget

Gruvberget covers an area of 5,286 ha
Mining at the South zone did not occur until 1987 where 40,000 tonnes at 90 g/t Ag, 5.1% Zn, 1.9% Pb, and 0.3% Cu
The Gruvberget South zone contains a historical resource to a depth of 50 m from surface associated with the following drill intersection highlights:

Hole GS-20-55 intersected 6.4 m at 129 g/t Ag, 8.7% Zn, 3.2% Pb, 0.48% Cu
Hole DBH-18 intersected 4.6 m at 139 g/t Ag, 11.7% Zn, 3.0% Pb, 0.42% Cu
Hole DBH-17 intersected 6.4 m at 66 g/t Ag, 7.8% Zn, 1.8% Pb, 0.38% Cu

The Gruvberget North zone has a strike length of 550 m and vertical extent of 160 m and remains open.  A mineral resource estimate has not been established at the North zone that contains the following drill intersection highlights:

Hole GRU1003 intersected 8.9 m at 40 g/t Ag, 3.7% Zn, 1.3% Pb, 0.16% Cu, 0.04 g/t Au
Hole GRU1008 intersected 4.8 m at 98 g/t Ag, 5.3% Zn, 2.0% Pb, 0.28% Cu, 0.14 g/t Au
Hole GRU1011 intersected 6.1 m at 1.3% Cu, 1.9 g/t Au, 51 g/t Ag, 1.1% Zn, 0.15% Pb1

Svärdsjö

Svärdsjö covers an area of 1,037 ha
Mining activities date back to the 14th century, and the historic Svärdsjö Mine (1887-1989) produced 1.03 Mt at 112 g/t Ag, 6.0% Zn, 2.7% Pb, 0.6% Cu and 0.4 g/t Au
Boliden conducted extensive exploration work on the Svärdsjö Property from 2009 until 2019. Boliden was not granted an extension to their exploration permit, and EMX Royalty aggressively claimed the Svärdsjö license area.
Uranium and different metals/minerals
Viken

Amongst the largest deposits by total historic mineral resources of vanadium and uranium in the world.
I

ndicated Mineral Resources:

23.6 million tonnes

at an average grade of 0.31% V2O5, 0.019% U3O8, 0.028% Mo, and 0.032% Ni
Inferred Mineral Resources: 2.8 billion tonnes at an average grade of 0.27% V2O5, 0.017% U3O8, 0.024% Mo, and 0.032% Ni

Rare earth, potash and phosphate potential

 Tåsjö

Estimated to host 75 to 150 Mt grading 0.03 to 0.07% U3O8, 0.11 to 0.24% REE, and 3.75 to 7.5% phosphate 
much thicker underlying Cambro-Ordovician Alum Shale
Tåsjö area hosts one of the thickest units of Alum Shale in Sweden
encountered Alum Shale from surface to the end of hole depth at 258.3 m. It was logged several years after drilling and the drill core was not assayed.

Ardnasvarre

The Ardnasvarre Property hosts several uranium, lead-zinc-silver and copper mineralized occurrences
Ardnasvarre nr 1 mineral license

9,708 hectares (ha) that is prospective for uranium, copper, zinc, lead, and rare earth elements (REE).

Labbas Uranium Zone

historical resource estimate of 86,478 tonnes at an average grade 0.12% U3O8 containing 228,780 lbs of U3O8
The Labbas zone contains elevated molybdenum and zirconium, and remains open in all directions.

Sågtjärn 

Historical Inferred Mineral Estimate: 756,000 tonnes at a grade of 0.068% U3O8 containing 1,137,585 lbs of U3O8
Historical boulders that returned assays from background levels up to 1.3% Cu, 1.8% Mo and 1.3 g/t Au.
Limited historical drilling intersected 0.8 m at 1.46% U3O8, 1.26% Mo, 0.25% Pb, 0.2% Zn, 0.2% Cu, and 10 g/t Ag.
Miscellaneous data dump
Viken Deposit
Indicated Mineral Resources: 23.6 million tonnes at an average grade of 0.31% V2O5, 0.019% U3O8, 0.028% Mo, and 0.032% Ni containing 162.8 million lbs of V2O5, 9.9 million lbs of U3O8, 14.7 million lbs of Mo, and 16.5 million lbs of Ni.
Ranstad uranium mine (Sweden) – Source
"As part of the Swedish nuclear fuel programme, uranium was extracted from alum shale near Ranstad, between Skövde and Falköping, between 1965 and 1969.

The mine was known as Ranstadsverket and yielded around three grams of uranium per ton of alum shale. However, by the late 1960s this yield was too low to make the mine profitable, and it was shut down. Over the four years that the mine remained in operation, around 250 tons of uranium were extracted from 1,500,000 tons of rock. A number of attempts were made to resume mining in the 1970s, but following protests from local people this never became a reality."
Talvivaara Mine
https://www.mining-technology.com/projects/talvivaara/
Resources
The project has total measured, indicated and inferred resources of 414Mt (0.15% Ni cut-off) containing 0.26% Ni, 0.02% Co, 0.14% Cu and 0.54% Zn. Total proved and probable reserves are about 257Mt, at about the same grades.
PorterGeo link
http://portergeo.com.au/database/mineinfo.asp?mineid=mn1348
Note: This is not investing advice and I am not an investment advisor. Consider me biased and do your own due diligence. I cannot guarantee the accuracy of the information in this article and it should be treated as being for entertainment purposes. Assume I may buy or sell shares at any time so make up your own mind!! I share neither your profits or losses.
Best regards,
THH