Defiance Silver (DEF.V) is one of my favorite juniors that checks enough boxes that it is one of the cornerstones holdings (>4%) in most of the portfolios I manage. In this article I will explain why that is and by extension why I was happy to have the company on as a banner sponsor in order to help bring attention to this great story…
Defiance Silver Corp in Short
Ticker: DEF.V
Website: LINK
Presentation: LINK
Crescat Presentation: LINK
Market Cap (@0.77/share): C$157.6 M
Cash: ~C$10.5 M
Enterprise Value: C$147.1 M (US$121.1 M)
Case for Defiance Silver in Short
The company has two major projects in the form of 1) The San Acacio silver project and  2) The Tepal gold/copper project which are both locates in Mexico. San Acacio is a primary silver project which has 16.9 Moz of silver on the books and what I would describe as tier 1 exploration potential. Tepal on the other hand is primary a a gold/copper project which boasts a resources of 1.8 Moz of gold and 813 M pounds of copper as well as having a PEA-study done which shows excellent economics. Tepal also has significant exploration potential to boot.
In my opinion the main selling points for Defiance Silver are that it:
Has Margin of Safety:

Silver, gold and copper resources banked already
A PEA on Tepal which on paper underpins much more than the current Enterprise Value alone

Has Probable Exploration Upside
Has High Potential Exploration Upside
Has diversification in terms of metals

Silver

Gold

Copper

Has an impressive exploration team which has figured out a lot of things that its predecessors did not
Is Cashed Up with ~C$10.5 M in the bank
To sum up
What is described above leads me to believe that the Risk/Reward function for Defiance Silver is excellent. The face value of Tepal arguably provides some major Margin of Safety, given that the 2017 PEA-study shows a Post-Tax NPV of US$345, and that's calculated based on a gold price of US$1,500/oz and a copper price of US$3.00/lb. In contrast the Enterprise Value for the whole company, which should reflect the Expected Value of both San Acacio and Tepal, is US$121.1 M. Lets not forget that San Acacio has a small resource of silver already as well. Furthermore there are de-risking efforts being done at Tepal which should translate to an even higher Margin of Safety as time goes by. In other words I think there are a number of ways that the intrinsic value of Defiance Silver will grow further even without factoring in any major drilling. Lastly, I think the company's metals diversification is something that should not be underestimated. If silver explodes one day which we all hope, then Defiance Silver will benefit (especially so if San Acacio can grow in the meantime). If copper keeps on running on the back of the favorable demand/supply picture in light of an increasingly "electrified" world then that will positively affect the intrinsic value. Gold, which is arguably the most "stable" of the three metals as well as being the premiere monetary metal
Then we have the exploration potential in both projects which I would consider very good. San Acacio especially is the one I am mostly excited about and can show the largest relative growth as well as perhaps the highest absolute growth, since there is a lot of ground to explore and the current system is wide open all over.
If I try to look 12-24 months out, which is beyond what the market tends to price in, I think the intrinsic value has a good shot of having increasing substantially. Therefore I personally think a lot of positive stuff could happen to my Defiance Position over the coming months and years given that I think the company is cheap relative to the already banked success.
Setting The Scene
Company Presentation:
#1. The San Acacio silver project
Lets take a look at the two projects, starting with the one which is currently being drilled, namely the San Acacio silver project. San Acacio is located in the legendary and very prolific Zacatecas silver camp in Mexico: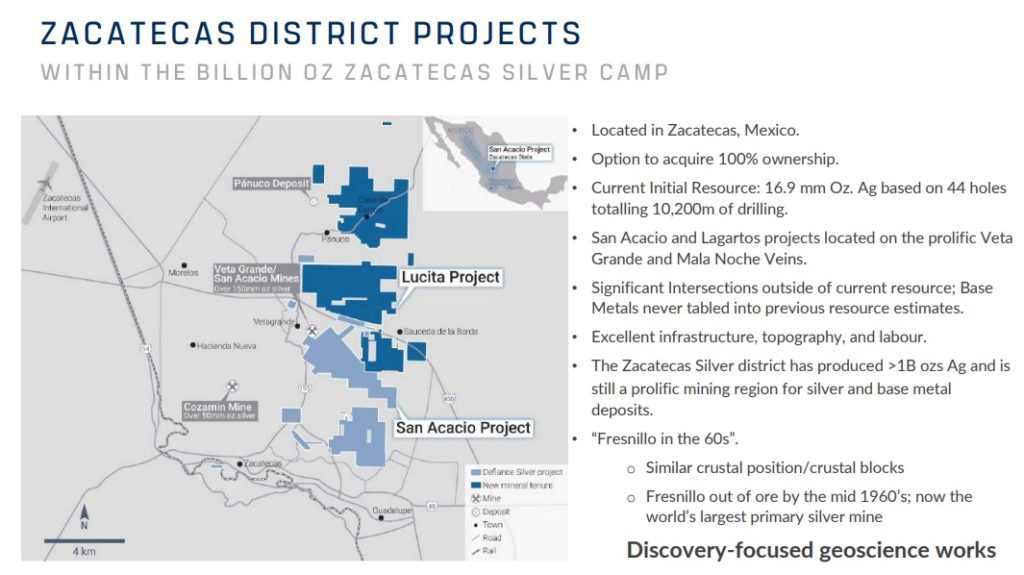 As per the slide there has been over 1,000,000,000 ounces of silver produced in the region which makes this true "silver country". Furthermore the geological setting at San Acacio shares similarities with the exceptional Fresnillo mine.  I have little doubt that it was this kind of tier 1 potential which attracted for example Crescat Capital (Quinton Hennigh).
The current focus is the Veta Grande vein and other veins in the near vicinity. The system(s) is both open along strike as well as at depth:
What will be really exciting to see is what the company might find at depth where the Veta Grande Structure is expected to meet the Veta Morada Fault zone:
… Will we see a blow out in both grade and thickness where said structures comes together? We don't know yet because previous exploration campaigns didn't drill deep enough and whatever team was involved probably didn't fully understand the geology. On that note I would recommened watching the following technical presentation which explains a lot of things as well as hammering in the point that the new geological team has done substantial work in terms of understanding the San Acacio geology:
Recent Developments
Last week (April 28) we got the first news release regarding the ongoing drill campaign:
Summary of Results

DDSA-21-35 – Intersected high-grade silver, including 1.57 metres of 1340 g/t AgEq (from 248.70m-250.27m) within a wide intercept of 18.55m of 149 g/t AgEq (from 241.35m-259.90m).

DDSA-21-36 – An angled step-out drill hole from DDSA-21-35, which intersected multiple zones of silver mineralization including 4.73 metres of 386 g/t AgEq (from 193.80m-198.53m) within a wide zone of mineralization returning 23.5 metres of 148 g/t AgEq (from 188.05m-211.55m).

DDSA-21-37 – A drill hole designed to test the vein in a previously undrilled section returned multiple high-grade results, including 1.85 meters of 1157 g/t AgEq (from 270.45m-272.30m) within a wider intercept of 8.22m of 333 g/t AgEq (from 270.45 to 278.67).

DDSA-21-38 – A step-out hole from DDSA-21-37 returned 9.56 metres of 180 g/t AgEq (from 266.4m-275.96m).

Chris Wright, Chairman & CEO, commented: "This zone of high-grade mineralization within the Veta Grande structure highlights the near-term exploration and resource building potential for the project. We have always felt the principal structures were inadequately tested both along strike from previous drilling and also at depth. All holes reported in this release include zones of silver, gold, and base metal mineralization. We are encouraged by these results, some of which are the highest-grade silver results that Defiance has drilled to date at San Acacio. Follow-up drilling in this zone will be aimed at defining the structure up-dip, and systematically stepping down-dip to test the vertical profile of the Veta Grande structure. We look forward to releasing additional results this year as they are received."
… Given the comment; "…some of which are the highest-grade silver results that Defiance has drilled to date at San Acacio", I draw the conclusion that the new geological interpretation is already paying off(!). Furthermore these hits were in a newly discovered zone which increases the overall potential. Lastly, it's worth pointing out that the drilling is still fairly shallow and that the "convergence" at depth has not been fully tested yet: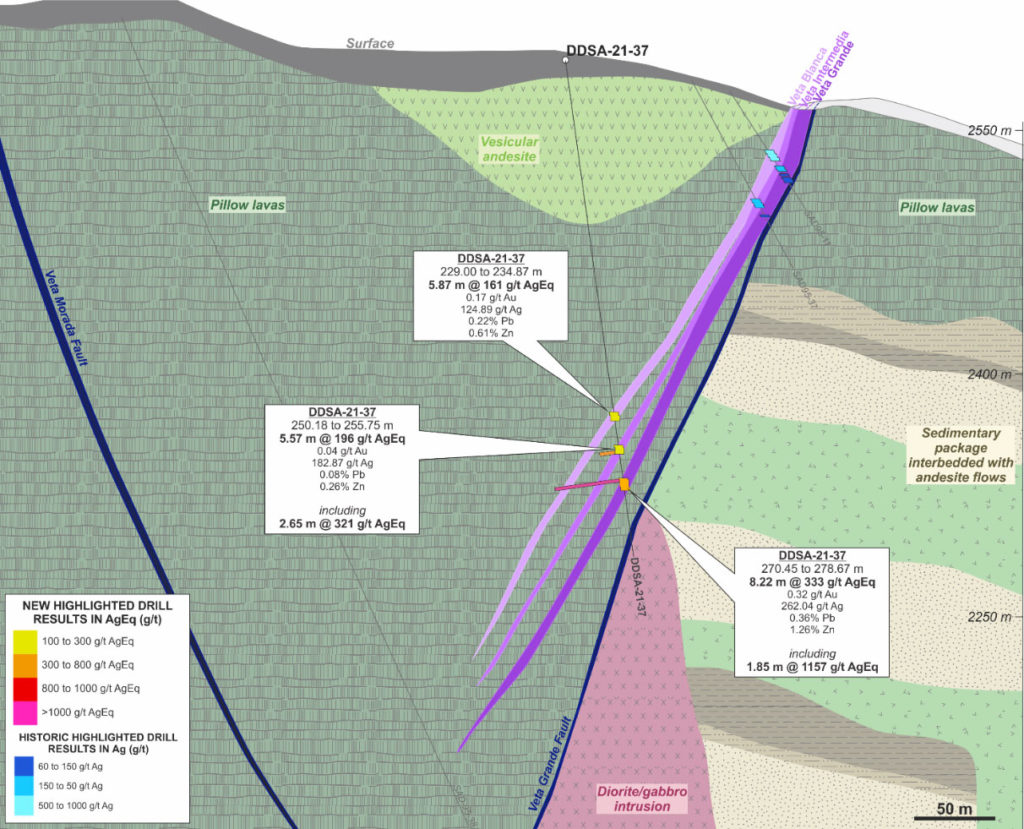 Dr. Quinton Hennigh had the following to say regarding this latest news release which contained the first results from the ongoing drill campaign:
To Sum Up
My view is simply that I think San Acacio has a lot of room to grow (Even tier #1 potential until further notice). And especially room to grow since the addition of the "Lucita Property" option from Pan American Silver. Better yet, the project already has a smallish resource to begin with, and given the latest news release I think that growth is not potential but probable. This is what I prefer to see in any case where I am risking a decent chunk of money since I hate to end up in a silver bull with little to no silver on the books of the companies I own.
#2. Tepal Gold/Copper Project
The Tepal project is very advanced since it is in the Pre-Feasibility stage and contains 1.8 Moz of gold as well as 813 million pounds of copper. This is what really puts a lot of meat on the bones for Defiance Silver as I see it. As stated in the introduction the project is very robust according to the 2017 PEA. In fact it is so robust that the Post-Tax NPV was deemed to be US$169 M with a 2.3 year payback period with a gold price of $1,250/oz and a copper price of $2.5/lb: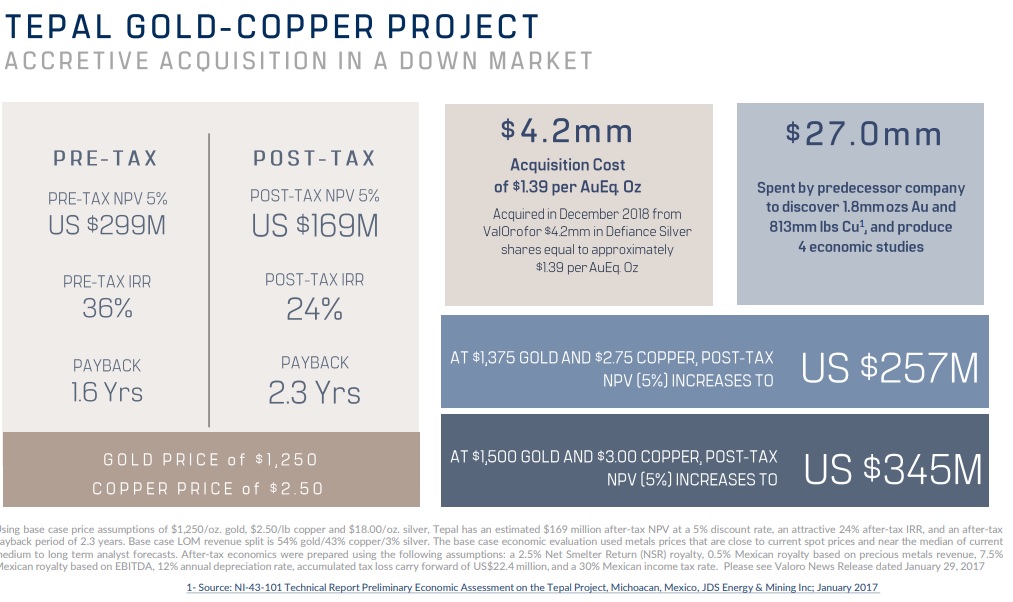 Given that gold is trading at $1,794/oz and copper is trading at around $4.5/lb I would not be surprised if the current NPV is close to US$500 M and with a very short payback period. In other words the current Enterprise Value of the company is a lot less than the value of Tepal at face value. Furthermore there is a lot of exploration potential left:
What makes it even better is that the two pits that have already been confirmed are wide open at depth as well:
Suffice it to say I think Tepal is an underappreciated jewel that, on paper, covers the current Enterprise Value of the whole company a few times over. What made me even more bullish on Tepal was these recent comments by Dr. Quinton Hennigh from a recent Crescat Capital presentation:
Bottom Line
I really like Defiance Silver because it already has a quite advanced gold/copper project in the form of Tepal which is worth a lot more than the current Enterprise Value of the company on paper. This provides the "margin of safety" as I see it. Then there is also probable upside both around Tepal as well as San Acacia. Lastly, the blue sky potential at San Acacia could really be tier #1 potential and I would think there is quite a lot of blue sky potential left at Tepal as well. This creates a company that is seemingly undervalued relative to the already banked success and therefore one gets any further exploration success for free. If the company finds NOTHING more at Tepal or San Acacio then there is still a project with a NPV in the ballpark of >US$500 M in the form of Tepal. If things go well then San Acacia might become a tier #1 silver project and Tepal could grow as well (tier #2, tier #1?). Therefore I do think there is POTENTIAL for the company to become a billion dollar vehicle one day.
In essence I think one is getting two projects for the price of one and that's some "no brainer" risk/reward in my book. If there is NO further exploration success for some reason then Tepal more than covers the valuation on paper. If there is a lot of exploration success at both projects then Defiance Silver could really be worth a lot in the future.
Some TA
Looks like the stock has broken out of a Bull Flag to me…
Note: This is not investment or trading advice. I am not an investment adviser and these are just my opinion. Since I own shares of Defiance Silver and the company is a banner sponsor you should assume I am biased. Therefore do your own due diligence and make your own decision. I may buy or sell shares at any time.
Best regards,
The Hedgeless Horseman