A short introduction to my new banner sponsor: Tristar Gold Corp (TSG.V)
Setting The Scene
Tristar Gold has been on my radar even since I read an article on 321gold.com by Bob Moriarty. I never invested in the company at the time since I quickly got sidetracked by new found Pilbara obsession. Anyway, fast forward to today and Tristar has come a long way in terms of growing their resource base as well as very recently getting none other than Royal Gold to cast a vote of confidence in the project. Furthermore, working environment for miners in Brazil seems to have gotten better to boot, judging by news items such as:
Lets just say that it seems that Brazil's conservative president Jair Bolsonaro seems to be very pro mining and that Royal Gold appears to be quite bullish when it comes to gold projects in Brazil, as evidenced by this recent news release out of Tristar:
"TriStar Completes US$8 million agreement with Royal Gold".
Having an entity such as Royal Gold (US$8.4 B in Market Cap.) cast their vote of confidence on a project is a good sign that TriStar's flagship project, Castelo de Sonhos, might have a realistic shot of actually becoming mine.
So what is Tristar Gold all about?
Tristar thankfully put together a short video to give people a quick overview of what Tristar is today:
Now, lets go into a bit more detail on the different facets of Tristar Gold…
People
I don't know about  you, but when I hear the word "paleoplacer", I immediately think about about Quinton Hennigh. Fortunately for Tristar (and shareholders), the one and only Quinton Hennigh happens to be a director of the company: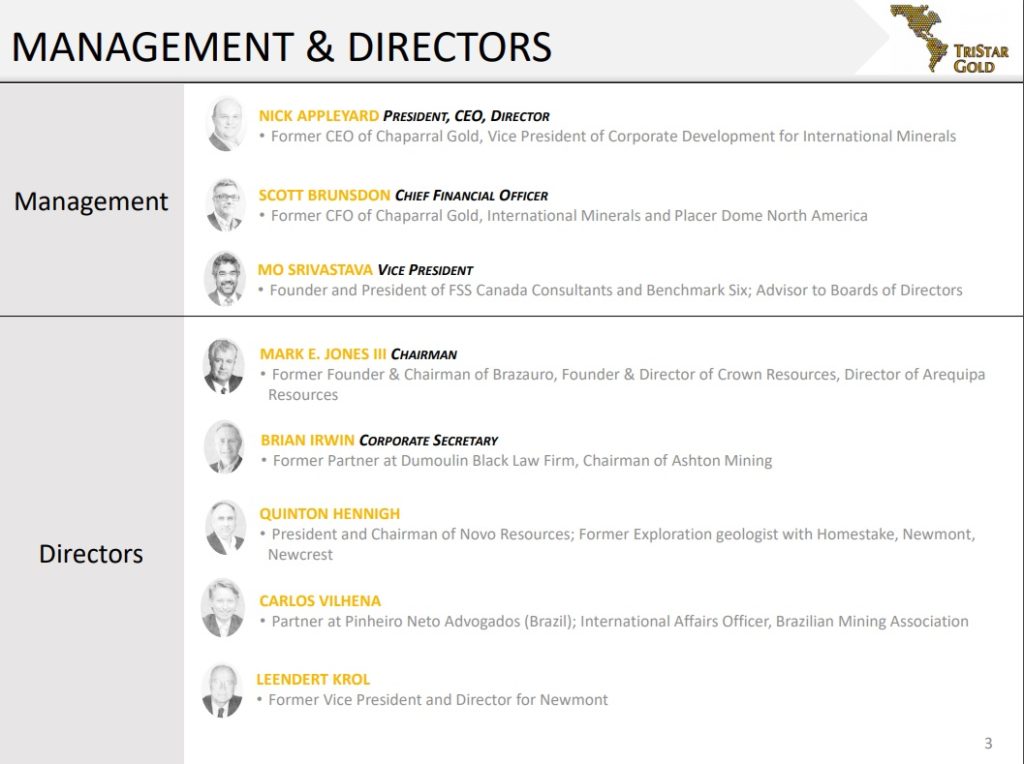 As many readers might know, I have great respect for Quinton and I consider any company he is involved with to be of interest. Furthermore, I recently spoke with President and CEO, Nick Appleyard and liked what I heard. Nick came off as a hard working professional that isn't "playing around". Him and his team are well aware of what a larger company would want to see in a project and that is guiding the company's decision making and path forward for Castelo de Sonhos. Further proof of management having the required for success is the fact that Nick Appleyard and Scott Brundson were both involved in Chaparral Gold, which was acquired by Waterton in early 2015. This is what I like to see in a management team. Namely a history of success which means they have "been there and done that" before. One should never forget how hard it is to actually find, prove up and be able to monetize a mining project. Betting on management without a track record of success is a risk I am not usually willing to take.
Capital Structure
Capital structure looks OK, but could have been better. With that said, Tristar has been able to keep it reasonably tight given that the company has been drilling up a lot of ounces and does not have any revenue, since it is a pure exploration company. The high insider ownership is certainly a positive.
Flagship Project – Castelo de Sonhos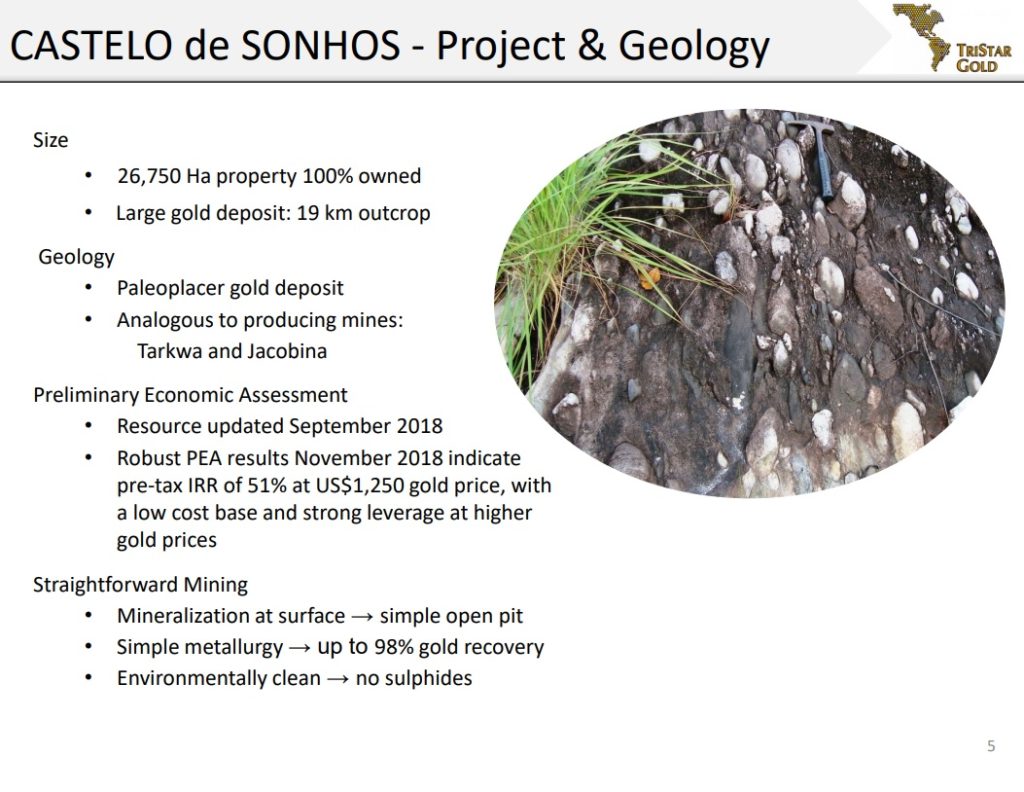 Tristar's Caselo de Sonhos project is a fairly advanced, decent-sized "paleoplacer" gold deposit and got room to grow. It should also be a pretty straightforward operation given that a) it starts at surface, b) the gold is coarse with great recoveries, and c) the ore is clean. Furthermore, Tristar has already produced a PEA for Castelo de Sonhos, which already looks solid when factoring in a gold price of US$1,250/oz:
If using post-tax numbers instead, the PEA shows 43% IRR and a NPV of $320M. These are obviously good numbers and the NPV is higher than the initial CAPEX which I personally want to see. Now, Tristar were so conservative (good sign) that they didn't even look at a US$1,500/oz gold scenario so one can only imagine what the project is worth on paper, today.
Life of mine gold production comes in at 1,100Koz, with an average gold production number of 130 Koz/year:
It's not the biggest operation around but it's not small either. With that said, the stamp of approval from Royal Gold suggests that is indeed large enough to be put into production in its current form and that is key.
So, the project looks solid in it's current form, but I always prefer companies with some growth potential as well. Thankfully Tristar has plenty of that given that the company has primarily only focused on the low hanging fruit around the edges of the "basin":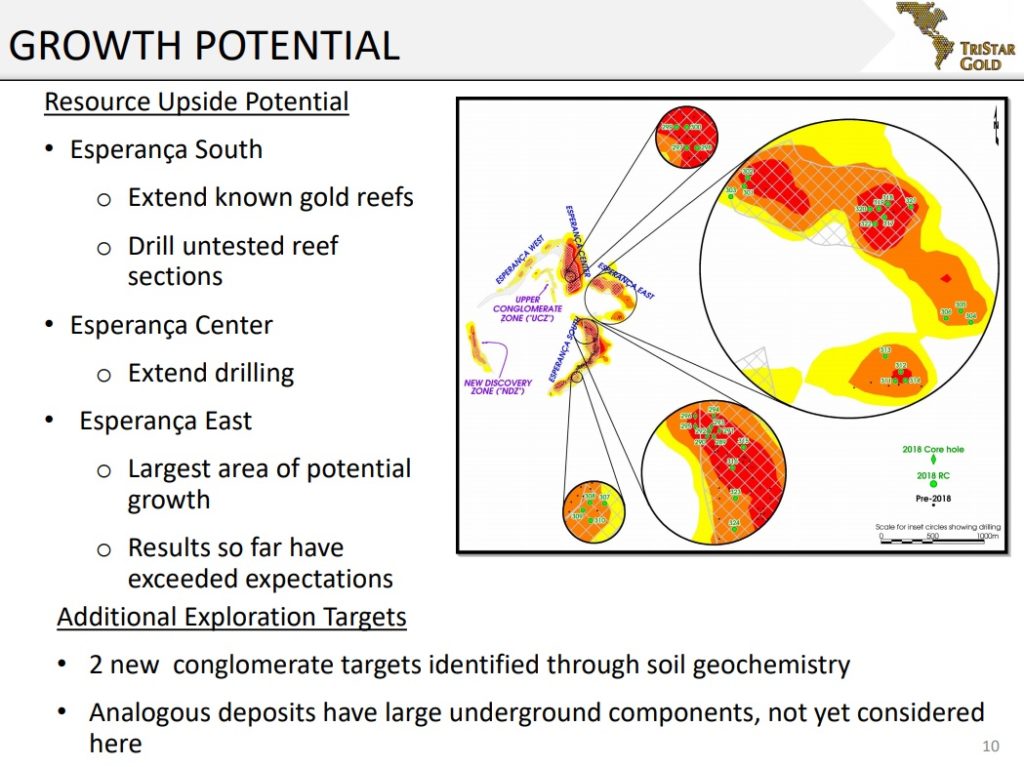 The gold bearing reefs doesn't stop there though so this project could easily be scaled up if there is an incentive to do so. As it stands now, the main focus is to further de-risk the project and complete a Feasibility Study. Thankfully Tristar has even grander plans for the future since the company also is looking to acquire a "second significant asset". This is a further positive in my eyes since I prefer companies that are ambitious and forward looking because the best returns are usually produced by growth companies. Sure, it won't happen tomorrow but I appreciate a management team that understands that the market is always asking "What's next?":
Valuation
Now that we have looked at what Tristar is all about it is time to look at the company's valuation:
Shares Issued: 178.8 M
Fully Diluted Shares: 213 M
Cash: C$6.1 M
Basic Market Cap (@ $0.21/share): C$37.5 M
Enterprise Value: C$31.4 M
After-tax NPV of Castelo de Sonhos (@ US$1,250/oz): ~C$320 M
To sum up why I like Tristar Gold
Proven management team

Has been successful in the past

Insiders with skin in the game
Vote of confidence from Royal Gold

Meaning that Royal Gold believes this has a real shot of being put in production (by someone)

Project with solid economics at US$1,250 gold

Which of course means great economics with gold at US$1,500
Reasonable CAPEX

Cheap compared to current project NPV
Potential growth story

Plenty of exploration potential on their current project
Looking to acquire an additional asset
Further Recommended Reading
(Note: This is not investment advice and I am not a geologist. I can't guarantee 100% accuracy in terms of the content in this article. Always do your own due diligence. I personally own shares of Tristar Gold which I have bought in the open market and I am planning to acquire more. Tristar Gold is also a passive banner sponsor of my site. For those reasons I am probably biased.)
Best regards,
The Hedgeless Horseman
Follow me on twitter: https://twitter.com/Comm_Invest
Follow me on Youtube
Follow me on CEO.ca: https://ceo.ca/@hhorseman