June 15, 2021
Grande Portage Resources (GPG.V) in short:
Over 1.5 Moz of very high-grade gold (8.91-10.23 g/t) in Alaska
Market Cap: C$60 M (@0.65/share)
Cash: ~C$4 M
Notable shareholders:

Crescat Capital (QH)
Eric Sprott

Upcoming Catalysts:

Will soon start drilling 8,000m
My Case For Grande Portage Resources is simple:
The company's flagship asset is the Herbert Gold Project which is located in south-eastern Alaska. The project already hosts a resource of over 1.5 Moz, of very high-grade gold, and there is loads of exploration potential left. There are several mines in the area, including the Kensington (Coeur) and Greens Creek (Hecla) mines, which points to a pretty ideal situation from a potential mine development point of view (which hikes up the value per current ounce as well as any additional future ounce). Naturally this also means that the likelihood of a potential take-over should be well above sector average(!).
As I see it I am not even fully paying for the current resource which means I am getting any exploration upside for free. In other words I think there is a good Margin of Safety present. Furthermore I see probable growth and high potential growth as well. The fact that this system appears to be exceptionally high grade means that the value per ounce could be relatively high.
Competitive advantages:
Remarkably High Grade
Location/Jurisdiction
Proximity to major miners
= Higher Value Per Ounce & Easier to Reach Critical Threshold
To Sum Up
I think Grande Portage is cheap (Margin of Safety), will grow (Probable Upside) and has High Potential Upside. To have all this in a tier 1 jurisdiction, in close proximity to mines run by Hecla and Coeur, is a luxury. Personally I think this is a "no brainer" case in terms of risk/reward. An exceptionally high-grade 1.5 Moz deposit, in a good location, is never going to go out of style and would even go up in relative relevance in case of a bear market.
Now, lets look at some slides from the presentation…
Current Resource: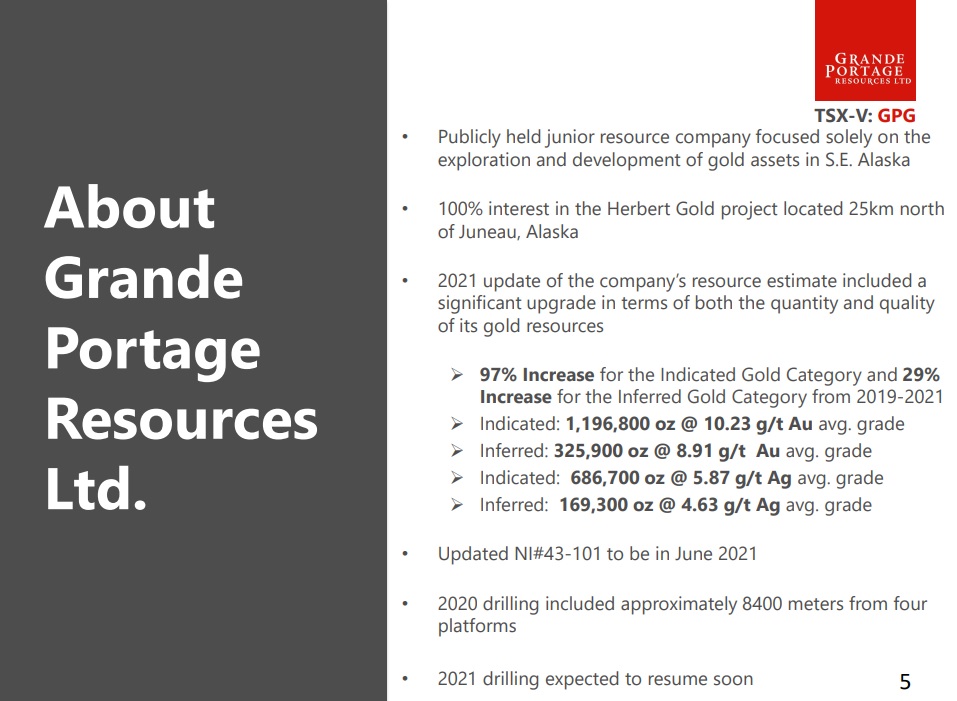 As you can see that is a very meaty resource. It's one of the highest grade resources I have seen in the junior space actually. This obviously means that the economic value per ounce could be very good and what is even better is the fact that the project is located near other mines which suggests that this is a good place to actually build one:
(Names of the major mining companies added by me)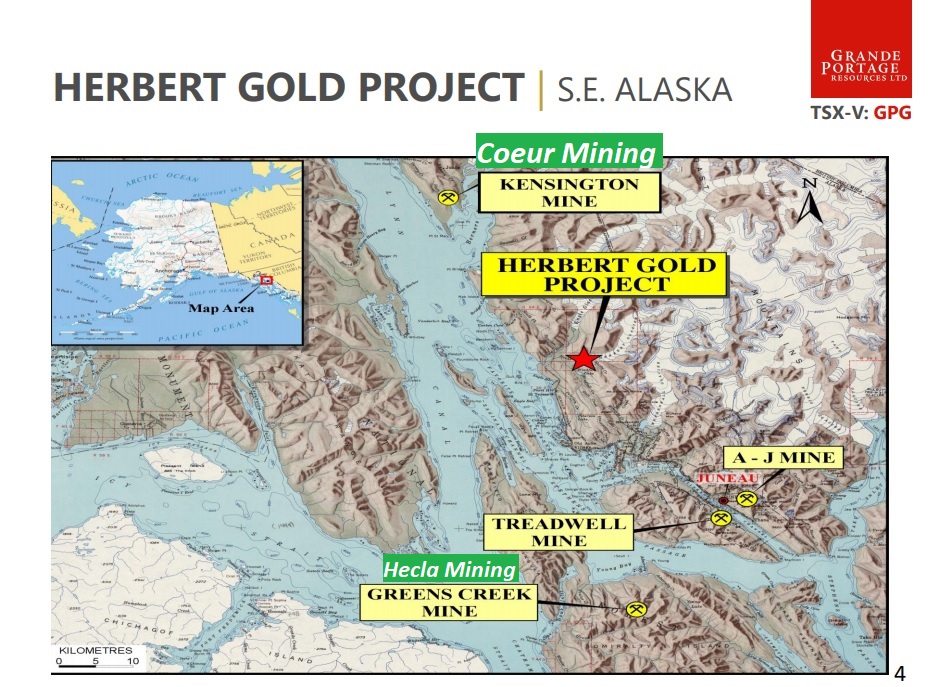 The exploration upside looks very good. There are several known veins nearby that might host additional ounces: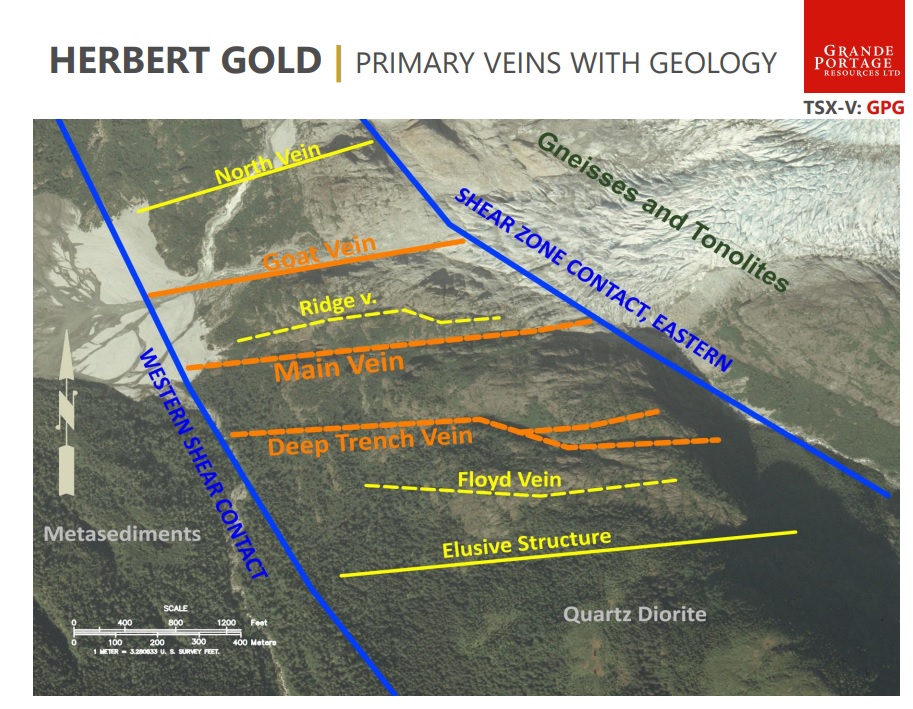 Comments by CEO Ian Klassen from a recent presentation:
"The deposit has numerous veins but also hundreds of rich splays that are off shoots… Which would be captured when underground mining occurs"
The company has also done LIDAR surveys which highlighted even more potential structures of interest that might be mineralized (white lines):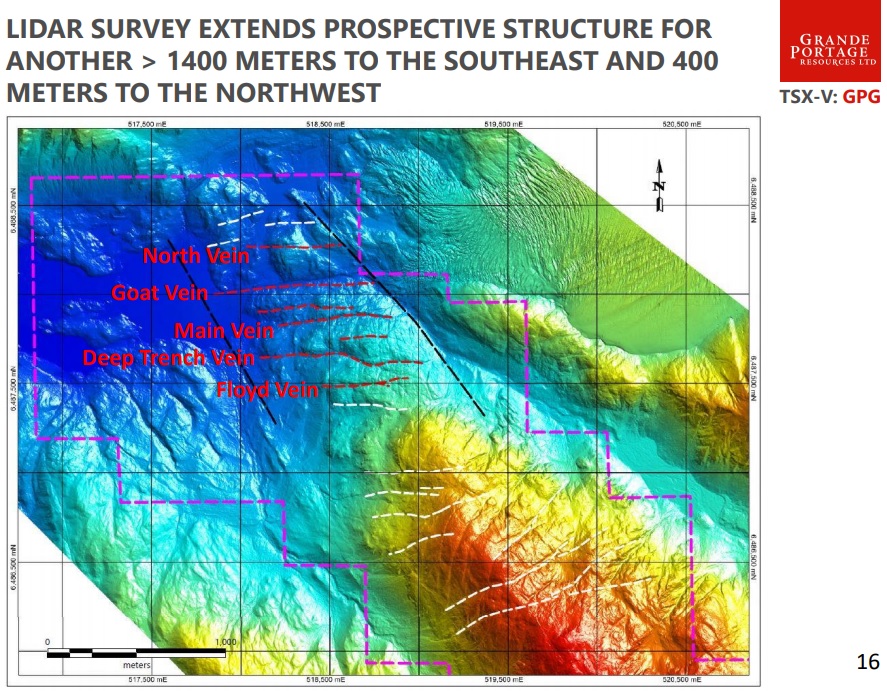 Another interesting comment by Ian Classen from the previously mentioned presentation which I think highlights how robust this vein system is:
"… We actually have never missed on any of those 176 holes… And we have only drill tested about 30% of the property"
… That's some pretty good ROI and another clue why I do see Probable Growth ahead.
Mesothermal vein systems can go down for a long way into the earth since the source was probably located many kilometers down. This means that there are no reasons for why the known mineralization, across multiple veins, could not be extended to considerable depths. In other words the resource could grow a lot from simply drilling deeper if nothing else: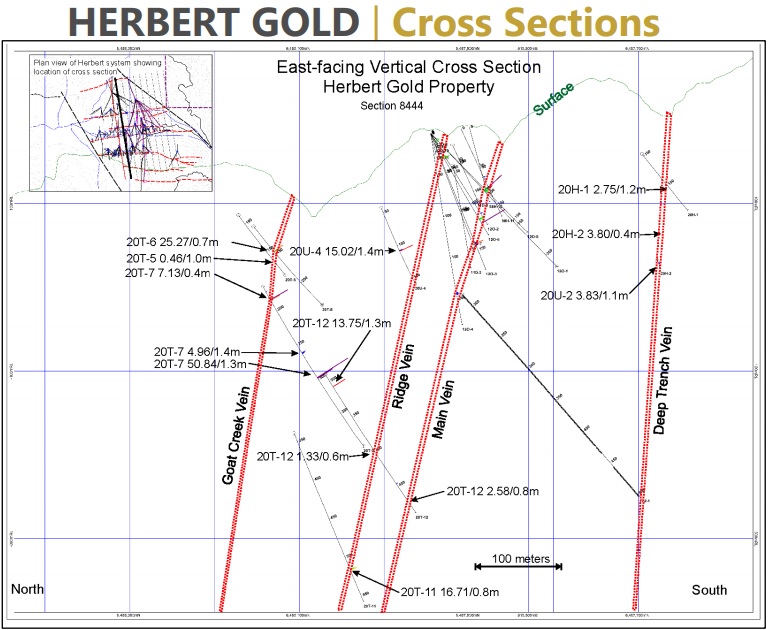 When you consider the number of a) known mineralized veins, b) the number of new potentially mineralized veins, and c) the depth potential of mezotherman/orogenic vein systems I think it easy to see just how much growth potential is present for Grande Portage.
What is very positive with a high-grade story like this is that the excitement factor can be higher than the average play. Just looking at some of these highlighted drill intercepts and it is easy to see that this system has some of that "barn burner" potential:
I remember listening to Quinton Hennigh's presentation on Signature Resources where he stated that when it comes to grade in orogenic systems "The grade you see is the grade you get". Meaning that for whatever reason some orogenic systems simply have higher than average grades. Given that the current Resource is around 10 g/t I therefore expect that further exploration will continue to hit high-grade gold.
In Summary
This is a very simple case and I love simple cases…
You get over 1.5 Moz of very high grade gold in Alaska which is considered to be one of the better first world jurisdictions. Furthermore the project is located near other mines which mean that the chance of this being developed ought to be a lot higher than the average junior and the potential synergies should add even further value (and take-over potential). The gold that is already confirmed is not going anywhere so this means that there is indeed Margin of Safety baked into the story. This is very good. The fact that the area looks wide open for more discoveries both in new veins as well as around the existing resource means that I think growth is probable. It also means that there is high potential upside given that the market cap is still "just" around C$60 M.
The resource is not far away from 2 Moz and I don't see a reason why it couldn't reach >3 Moz in time. A multimillion ounce deposit, with exceptional grades, and in an exceptional location/jurisdiction would probably be worth several hundred million dollars is my guess.
Upcoming Catalysts
Drilling on multiple veins:

Approximately 25 holes across 8,000m
Some TA
To me the chart looks bloody fantastic which thankfully lines up with my very bullish view of the company fundamentals. It looks like a major Cup & Handle formation that was recently broken out of (and currently re-testing the break out):
Video Presentation (Metals Investor Forum):
Company Website: LINK
Note: This is not investment advice or trading advice. I own shares of Grande Portage and the company is a banner sponsor. I cannot guarantee the accuracy of the information in this article. Always do your own due diligence and make up your own mind.
Best regards,
The Hedgeless  Horseman